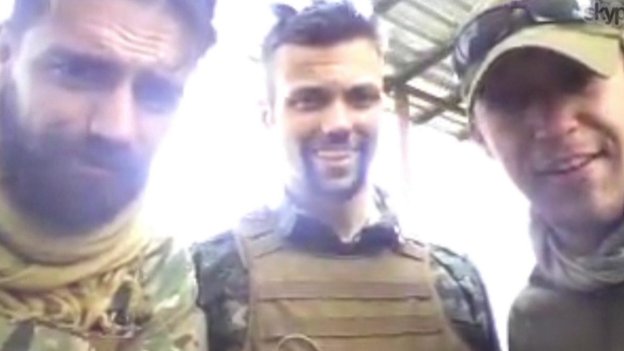 News
UK fighters in Syria 'not mercenaries'
A British man fighting with Kurdish troops against Islamic State militants in Syria says he is not a mercenary.
Jamie Read, from North Lanarkshire, and James Hughes, from Worcestershire, are reported to be among 15 Westerners with the YPG militia group.
Mr Read said they were helping the Kurdish people in their efforts against the jihadists and were not being paid.
The government has warned against going to Syria and more than 500 Britons are said to have fought for IS.
Mr Read and Mr Hughes, who saw service with the Army in Afghanistan, have been pictured on social media with US national Jordan Matson. He previously talked to the media about his involvement with the YPG on the frontline in Syria.
Mr Read spoke to BBC World Service Radio's Newshour programme via a field radio.
Asked if he and Mr Hughes, who is originally from Reading, Berkshire, were mercenaries, he said: "No… [there is] no factual evidence to support that accusation."
He said they became involved "to help the Kurdish people, the YPG – support them in their fight" against IS.
But he declined to say where they had been fighting and if any other Britons were attached to the YPG group.
A statement has been placed on a Facebook page associated with Mr Hughes and Mr Read in response to newspaper stories about them.
"A mercenary is a person who takes part in an armed conflict who is not a national or a party to the conflict and is 'motivated to take part in the hostilities by the desire for private gain'," it says.
"That is clearly not the case for those of you who know or have met James Hughes and Jamie Read.
"They are volunteers… whose conscience has motivated them to apply their skills to assist innocent people who have been left to their own devices in the face of terror from IS and to report their experiences so that western European audiences can understand the imperative of assisting the Kurdish nation resist IS."
No salary
A freelance journalist helping the YPG with their media relations told the BBC the foreign fighters "regard the IS as an international terrorist group and they believe this international fight should not just be fought by the Kurds".
He said the YPG provides weapons, uniforms, food and accommodation but does not pay a salary and the fighters make their own way to Syria.
"I cannot speak with 100% authority about their motivation but the… impression I got was that these people have served in the armies of their own countries and have strong feelings against terrorism.
"They see our struggle as a struggle between good and evil."
The Foreign Office says anyone fighting in Syria is likely to be arrested on their return to the UK but for them to be charged with an offence depends on whether they are deemed to have taken part in acts of terrorism.
More than 100 Britons suspected of involvement with IS in Syria have been arrested this year.
BBC