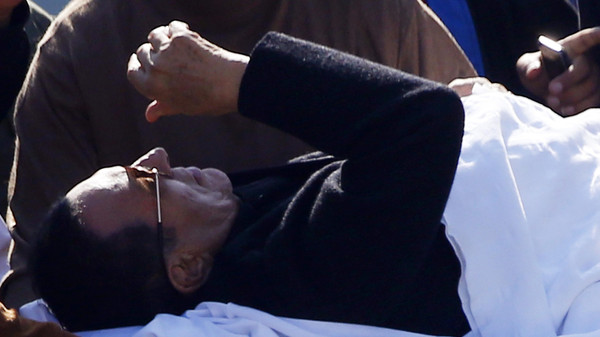 Egypt's ousted president Hosni Mubarak said Saturday he "did nothing wrong," after a court dismissed a murder charge against him over a deadly crackdown on protesters in 2011, Agence France-Presse reported.
"I did nothing wrong at all," he said in a telephone interview with television from the military hospital where he is serving a separate three-year sentence for corruption.
The court also dismissed separate corruption charges against the former autocrat, in a retrial held after an initial life sentence was overturned on a technicality.
"When I heard the first verdict I laughed. I said: 'Ha'!'" Mubarak said of the 2012 sentencing.
He praised his 30-year rule, which was marred by police abuses and corruption, especially the decade before his overthrow.
Apparently referring to economic growth, he said: "The last 10 years showed more results than the 20 years before, including telephones and so on, and then they turned against us."
Early Saturday, a helicopter transporting the 86-year-old former president took off from the Maadi military hospital, where he is currently serving a three-year-sentence after he was found guilty of corruption, Al Arabiya News Channel reported.
Families of the victims gathered in front of the Police Academy, where the trial is being held.
Earlier in September, the presiding judge was supposed to announce the court's decision but postponed the judgment to Nov.29 saying that he did not have the time to go through thousands of case documents filed.
Today's verdict ends a long retrial after an appeals court overturned a life sentence handed down in 2012.
In addition to the families of the victims, a crowd of Mubarak's supporters also gathered in front of the court house, Al Arabiya News Channel's correspondent reported.
alarabiya.com (With AFP)