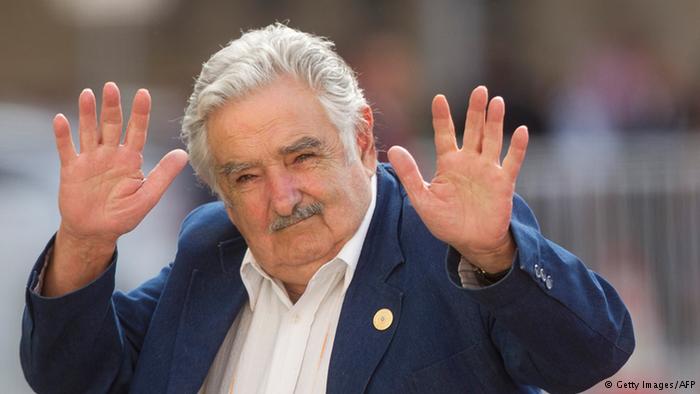 Unlike many leaders in Latin America, President Jose Mujica of Uruguay has promised to take in Syrian refugees, mainly children. His pledge has drawn praise from the UN, but the opposition is skeptical.
Since Mujica has been in power, politics in Uruguay have changed. Everybody knows that the president lives on a ramshackle farm, refuses to take his full salary, and a night out for him and his wife usually means going to the local pub.
And he still manages to surprise his people with unconventional and practical ideas. "Pepe" Mujica, as he is known at home, has made Uruguay the first country to cultivate and sell marijuana legally, so as to take the wind out of drug dealers' sails.
Last year, he suggested that people receive computers and bicycles in exchange for their weapons. Now, he has pledged to take in up to 100 Syrian refugee children.
On Radio Uruguay he asked whether "it wouldn't be worth making an effort to try and save those children that have been left behind." He said that, in September, Uruguay would accept between 50 and 100 children who have fled from the war in Syria to neighboring Jordan.
'More than words'
Of the 2.5 million refugees who have fled the civil war in Syria and who have made it to the camps, 1.2 million are children. Almost half of those is younger than five years of age, according to the UN's refugee commission (UNHCR).
The UN is desperately trying to place the youngest children.
Commissioner Antonio Guterres has specifically called for Latin American countries to take in Syrian refugees. So far, only Brazil and Uruguay have heeded that call.
"Finally, more than just words," the analysts at Oxford Analytica, an advisory firm, said in response to Mujica's plan. And it seems that Mujica had thought of everything.
He told UN Secretary General Ban-Ki Moon about his plan in writing. He asked Brazilian President Dilma Roussef if he could borrow a plane to get the children to Uruguay.
He also offered for them to live at his Anchorena summer residence, 200 kilometers (125 miles) west of the capital Montevideo.
Opposition critical
Given the sheer number of refugees from Syria, Uruguay's offer is a drop in the ocean. Mujica's proposal got a lot of attention nevertheless, as Uruguay is preparing for elections. Mujica is set to quit in 2015 – Uruguay needs a new presidential candidate.
Opposition parties are not enamored with the president's latest refuge idea. "Not well thought-out" is one of the more benign comments. "A telenovela from the president's pen" is by no means one of the most sarcastic reactions.
But some also sought to profit from Mujica's idea. Lawmaker Veronica Alonso from the opposition Partido Nacional suggested something slightly bizarre.
"We should take care of the most vulnerable children, those who have been separated from, or left behind, by their families. There are plenty of refugee children, but we should not take in those that still have family," she said.
Instead, Alonso, who has three children herself, suggested only taking in orphans who could then be adopted by Uruguayan families.
Arabic tradition in Latin America
The UN refugee commission's Buenos Aires, meanwhile, has clarified that any Syrian children taken in by Latin American countries would travel with a member of their family.
But it is not clear what happens once they arrive. While the opposition is conjuring up doomsday scenarios involving problems of integration, language and cultural issues, the figures say otherwise:
More than 20 million Latin Americans have Arabic roots, many countries have active Arabic communities.
And if the refugees should be housed in the president's summer residence, it would even be good for the government's coffers.
As Mujica shuns the luxury lifestyle and hardly ever uses the estate, its 30 rooms are empty. A few dozen staff at the residence are being paid for twiddling their thumbs for lack of something to do, costing taxpayers' money.
www.dw.de