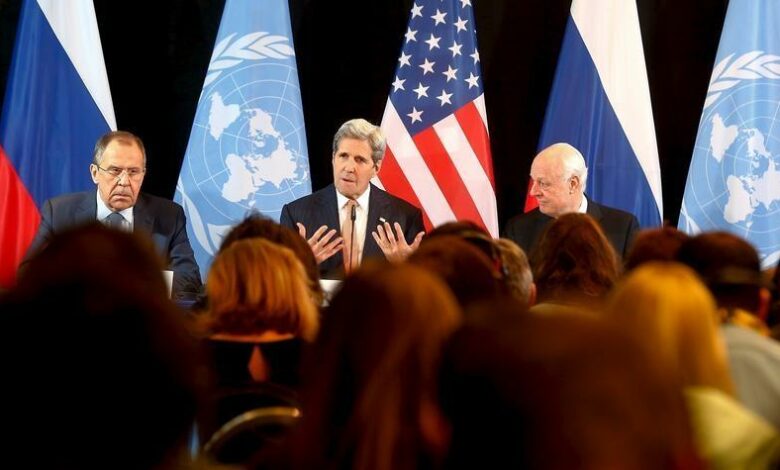 Reports & Files
US, Russia: Investigate Deadly New Attacks in Aleppo, Syria
(New York) – Deadly attacks on the city of Aleppo on June 4 and 5, 2016, are a test of theUnited States' and Russia's recent commitment to investigate attacks with significant civilian casualties in Syria. They should examine the attacks, which killed at least 32 civilians in opposition-held areas and at least 22 civilians in government-held areas.
In a May 9 statement, the US and Russia promised to carry out a joint assessment of attacks in Syria "leading to significant civilian casualties" and to share the results with the members of the International Syria Support Group Ceasefire Task Force and the UN Security Council. A month later, however, Human Rights Watch is not aware of any joint assessments. The US and Russia should report to the Security Council about these new attacks, and both countries and the Security Council should impose sanctions on those responsible for any attacks that violate international law.
"As fighting escalates again in Aleppo, the US and Russia should keep their commitment to investigate, to maintain their credibility," saidNadim Houry, deputy Middle East director. "Both the US and Russia should make clear to the warring parties that attacks that kill civilians in violation of international law won't be tolerated."
According to the Syrian Observatory for Human Rights (SOHR), a Syrian group that reports on civilian casualties in the conflict, attacks and shelling on opposition-held Aleppo has intensified since April 22. Between April 22 and June 9, 560 civilians have been killed, including 115 children and 83 women, according to SOHR.
At about 8 a.m. on June 5, airstrikes started hitting residential neighborhoods in opposition-held parts of Aleppo, according to local residents and local members of Syria Civil Defense, a volunteer search and rescue organization which operates in opposition-held areas. One of those neighborhoods was al-Qatirji where the Syrian Network for Human Rights said 12 civilians died.
"The rockets didn't stop falling until maybe 3 p.m.," said Feras Badawi, a local resident. "The whole day felt like the Apocalypse, it was just so bad. It is hard to describe, people were running chaotically, children were crying, women were screaming. My children were hysterical. People were very afraid."
Badawi and two local media activists said that there were no military targets in the area that came under attack. Human Rights Watch could not independently verify the presence of military targets in that area. The Syria Civil Defense posted a video showing the aftermath of one of the June 5 strikes on al-Qatirji and rescue workers pulling a dead body from the rubble. Using satellite imagery analysis of al-Qatirji, Human Rights Watch identified at least three distinct sites in the area hit on June 5 showing multiple mixed residential and commercial buildings damaged. The damage in these sites is consistent with the detonation of large air-dropped munitions.
The Syrian Observatory for Human Rights and the Syrian Network for Human Rights, another group that reports on civilian casualties, put the civilian death toll from airstrikes and artillery fire on opposition-held areas that day at 32, including a woman and two children. The Syrian Civil Defense said that 64 civilians were killed in Aleppo and its outskirts. Neither the Syrian nor the Russian government issued a statement, and it is not clear which of them carried out the airstrikes.
The official Syrian news agency, SANA, reported that rockets fired by opposition armed groups on government controlled parts of Aleppo, including al-Midan and al-Ramouseh neighborhoods, killed 17 civilians and wounded 124 on June 4.
"Buildings were destroyed and three shops were completely burned," said 'Pierre,' a resident of government-held Aleppo who visited al-Midan after the June 4 attacks. "I saw burned bodies inside the buildings and ashes everywhere. There was no way you could recognize the corpses. A bomb fell on top of a taxicab and it was totally destroyed and it killed the cab driver. There were so many rescue workers trying to put out the fires and saving injured people."
On June 5, SANA reported that five people were killed and 77 injured when armed groups fired rockets on Aleppo locations, including al-Ramouseh, the Electricity Company, al-Midan and the Public Park, also hitting an Armenian church.
Human Rights Watch has previously documented abuses by armed groups, including through attacks with car bombs, mortars, and unguided rockets on heavily populated, government-controlled areas in Damascus and Homs.
Deliberate or reckless attacks against civilians and civilian structures committed with criminal intent are war crimes. The laws of war require that the parties to a conflict take constant care during military operations to spare the civilian population and to "take all feasible precautions" to avoid or minimize the incidental loss of civilian life and damage to civilian objects.
"The US and Russia should make sanctioning those responsible for unlawful attacks a priority to deter future such attacks and show commitment to Syria's civilians," Houry said.
Attacks on Opposition-Held Areas
The deadliest of the June 5 attacks hit al-Qatirji and al-Kallaseh neighborhoods of Aleppo. According to the Syrian Network for Human Rights, the June 5 strikes on al-Qatirji killed 12 civilians.
Feras Badawi, a resident of al-Qatirji, said he was asleep with his wife and four children when airstrikes hit his neighborhood:
When we heard the first explosion at around 8 a.m., the whole household woke up afraid and the children were scared so I took the whole family to the shelter and I ran out to help with the rescue efforts. As soon as I reached the location of the first rocket, another rocket fell in the same place.
Both Badawi and Ahmad Hallaq, a media activist who went to al-Qatirji neighborhood that morning, said that a first strike did not kill anyone but a second strike did. Badawi said that about an hour after the first round, new airstrikes hit the area:
As we were trying to rescue people, we heard another loud explosion and we had to run into the buildings for shelter. I saw parachutes carrying the bombs as they fell down, and we had to escape. We heard more explosions and planes swooshing overhead so we just had to escape and we left the people whom we were trying to save because we just got too afraid. When it became quieter, we helped to remove people from underneath the rubble and took some of the civilians to shelters underneath the apartment buildings.
Badawi identified one of those killed as his neighbor Farlas Talji.
Satellite imagery analysis comparing images of al-Qatirji, taken on May 24 and June 12, show at least three major damage sites in the area targeted on June 5. All damage identified in the satellite imagery is consistent with the detonation of large air-dropped munitions on residential areas.
Later that day, artillery fired by government forces on opposition-held areas in al-Kallaseh neighborhood killed at least five civilians, including two children. Osama Abu al-Ezz, a doctor who works in the Ento field hospital, said artillery shells began falling at 10 p.m. on al-Killaseh, close to his hospital.
This neighborhood is civilian and there are no military headquarters or fighters there. The shelling struck men and children who were gathered to celebrate the first day of [the Muslim holy month of] Ramadan. Many injuries came through our hospital doors and four people arrived already dead. The injuries included shrapnel to the head, stomach, and limbs and the bodies were badly burned and riddled with shrapnel. In total, I saw five dead people from this attack, and two of them were children.
Ziad al-Halabi, a resident of al-Kallaseh, said he was busy at work in his house when he heard the explosions of the artillery fire close to his home.
"Once I heard the explosions, I ran out to see the situation and found that the rockets had fallen 200 meters away from where I live," he told Human Rights Watch, speaking from Aleppo. "In fact, I thought it was my brother's building that got hit. When I arrived at the location of the strike, I saw two men who told me that people had died in the attack, and those men's clothes were drenched in blood because they were rescuing the injured people. Where the shell fell there was a crater and there was a lot of blood on the ground and injured people lying on the ground. The attack killed five people and I knew all of them, they were neighbors."
According to the Syrian Network for Human Rights, attacks also hit the following opposition held parts of Aleppo on June 5:
Al-Zabdieh: 5 civilians killed – 2 killed in artillery fire, 3 including one child in airstrikes
Al-Muyasar: 3 civilians killed
Al-Haydarieh: 2 civilians killed, including one woman
Karm al-Jabal: 4 civilians killed
Al-Furdous: 1 civilian killed
Attacks on Government-Held Areas
'Pierre,' a resident of government-held Aleppo, told Human Rights Watch that he went to al-Midan neighborhood after it was attacked on June 4. He said the shelling there was between 6:30 and 8 p.m. He said al-Midan is a densely populated residential area that had been a mainly Armenian neighborhood before the war but many displaced Muslims are living there today.
Photos published by the Syrian Ekhbareya TV station show damaged vehicles and apartment buildings reduced to rubble. Video filmed by the station also shows rescue workers trying to dig out victims from under concrete from the buildings. Another videoshot in al-Fayd neighborhood shows damaged shops, wares strewn on the ground, and destroyed parked cars on the side of a street.
Photos published on June 5 by the Ekhbareya TV station show bloodied civilians on gurneys awaiting treatment, while video shot shows buildings on fire, destroyed cars, and a man holding what seemed to be a dead child.
hrw.org