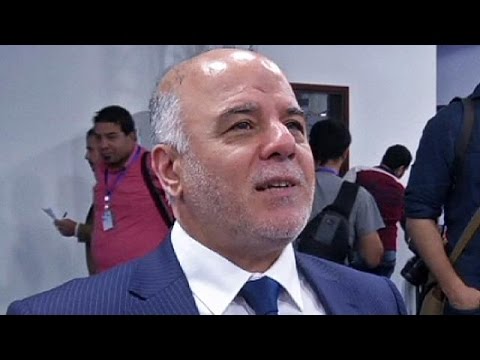 Western powers have lauded the naming of Haidar al-Abadi as Iraq's new prime minister as a promising step forward in the effort to form a unifying government. Incumbent Nouri al-Maliki, however, remains defiant.
President Obama said he called to congratulate Shiite politician Haider al-Abadi after he was nominated prime minister-designate and urged him to name a new cabinet "that is inclusive of all Iraqis" as quickly as possible.
Speaking in a televised address on Monday from his vacation location in Massachusetts, Obama called on Iraq to unite around an inclusive government and tackle "Islamic State" (IS) extremistswho in the past two months have seized Mosul and swathes of northern Syria and northwestern Iraq.
Al-Abadi's appointment by President Fouad Massoum was also welcomed by UN chief Ban Ki-moon. He called on al-Abadi to "form a broad-based government acceptable to all components of Iraqi society.
EU foreign policy chief Catherine Ashton described the appointment as a "positive step" and also urged him to form an inclusive government.
Al-Maliki defiant
Incumbent Nouri al-Maliki, the long-time Iraqi leader who had for years enjoyed support from Washington, has remained defiant and rejected the appointment of al-Abadi as unconstitutional. Al-Maliki vowed to take his case for a third prime ministerial term to Iraq's Supreme Court.
Earlier on Monday, Iraqi special forces said to be loyal to al-Maliki had deployed at strategic locations in Baghdad. Hundreds of his supporters waved posters, shouting: "We are with you, al-Maliki."
Iraqi media said more than half of al-Maliki's State of Law bloc had joined the rebellion against the two-time Shiite premier. Al-Maliki was widely blamed for long alienating Iraq's Sunni minority – a trend exploited during the advance of "Islamic State" extremists.
Al-Abadi, described as a more conciliatory figure, has 30 days to form a new Iraqi government.
hc/lw (Reuters, AFP, AP)