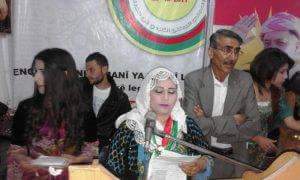 Breaking news
News
PYD Asaish Arrests Ameera Tammo, the Administrative Member of the Kurdistan Women Union
Yekiti-Media – Girkay-Lagay
The Democratic Union Party (PYD) Asaish arrested Ms. Amira Tammo, the administrative member of  Kurdistan Women Union /Girkay-Lagay branch in Semalka border crossing with the Iraq Kurdistan region on Wednesday, May11th, 2016.
Yekiti-Media reporter confirmed that the Ameera was going to Iraq Kurdistan with her four children.
Yekiti-Media reporter also confirmed that the PYD Asayish  in Semalka allowed her children to cross, while she was prohibited from leaving, and  then she was arrested to be directly transferred to Asaish center in Dirik city.