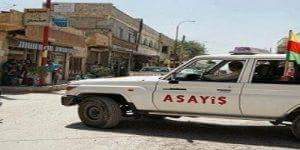 Breaking news
News
PYD Military Groups Launch a Massive Arrest Campaign in Kurdish Villages in Syria
Yekiti-Media
On Monday, May23rd,2016 at dawn, the armed groups (Asaish) belonging to Democratic Union Party (PYD) besieged and attacked several villages near Amouda city like Tel Habash, Gawhariya and Karango villages and other villages belonging to Kocharat region in Derik city like Ger-Ziro, se-Gira, Besta-Sous, Sabi'i-Gavar and Tikay as well as Gir-Zirat Abasa village belonging to Girkay-Lakay town.  The PYD Asaish were accompanyed with four-wheel drive vehicles loaded with heavy weapons, and they started in searching houses precisely and scaring children, women and the patient elderly,  and finished in arresting young men for military conscription.
The names of the arrested young men in Amouda villages :
Tel-Habash village :
1.Hozan Muhammad Alo
2.Magid Amir Hussein
3,Musa Farhad Qasim
4.Salih Farhad Qasim
5.Rezan Ahmad Qasim
6.Jiwan Suliman Khwarzay
7.Malik Mahmoud Alo
Karango village :
1.Zinar Majdal Qasim
2.Sipan Daham Hag Qasim
3.Nizar Yusif Hag Qasim
4.Botan Akram Hag Qasim
5.Mahmoud Younis Hag Qasim
Gawhariya village:
1.Bawar Akram Sinan
2.Shahin Bahram Sinan
3.Salih Hawas Wali
4.Daham Fahad Wali
5.Farat Abdul Wahab Wali
6.Badran Hawas
7.Faiq Kamal Sinan (released later)
8.Ali Muhammad Ameen Sinan ( released later).