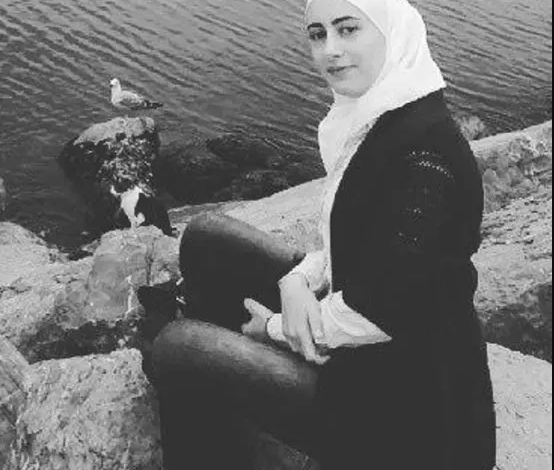 Regional & World News
An American woman died in a Syrian regime prison. Could the US have done more to help her?
Yekiti Media
Layla Shweikani's death at hands of Syrian government has so far prompted no comment from White House
Last month, Layla Shweikani's parents received the news they had been dreading for two years. Their daughter, a 26-year-old Chicago native, had died in Syria.
Shweikani travelled to the country in September 2015 to help people affected by the war raging there, but was arrested by Syrian authorities just six months after her arrival and charged with terrorism offences.
Less than a year later she was executed following a trial that lasted for 30 seconds, according to rights groups following her case.
In the weeks since her death was confirmed, neither the White House nor the US State Department have issued a public statement on the circumstances of how she died.
As the global outcry over the murder of Saudi journalist Jamal Khashoggi continues to reverberate, many have struggled to understand why her killing has failed to elicit similar attention.
That silence is indicative of how two successive US administrations failed Shweikani and her family, both in her time of need as a prisoner and after her brutal death, according to people involved with the efforts to have her freed.
"If the State Department had done something more back then by putting more pressure and showing that there would be consequences, I think Layla would be alive today," says Qutaiba Idlbi​, a researcher who works with the relatives of Syrian detainees.
"Politically, they were not interested in doing anything," he adds. "Their entire response was ridiculous."
Shweikani and her family had travelled back and forth between Syria and the US for many years, but when she arrived in Damascus in 2015 she intended to stay there. A dual US-Syrian citizen, she was motivated to help civilians suffering from the war and began work with a group of friends to organise aid efforts for people in the Damascus suburb of Eastern Ghouta, then besieged by government forces.
The Syrian government views any kind of independent organisation as a threat, and one by one, her friends were arrested.
"She felt she would be more protected because she is American," says Idlbi, who is based in the US. "And she felt she needed to do something."
Then in February 2016, six months after she had arrived, she too was arrested by security forces, along with her father and her fiancé. She was charged with planning to assassinate members of the Syrian government, according to Idlbi.
What happened next was discovered by Idlbi through testimony of other inmates at Adra prison, where she was held, and contact with Syrian officials after the fact.
The US withdrew its ambassador from Syria in 2012, after the outbreak of the civil war, so her case was pursued through the Czech ambassador to Damascus, Eva Filipi. Ten months after she was first detained, on 18 December 2016, Filipi visited Shweikani in Adra prison on behalf of the US government.
Before the visit, Shweikani had been threatened by Syrian authorities that they would harm her family if she did not confess to the ambassador to the crimes she had been accused of, which she then did.
Eight days later, Shweikani was taken from Adra prison to a military court, where she was asked to answer to the charges against her.
"The trial is basically one question: 'Do you admit to the accusations?' Layla said yes, due to the threats on her family's life," says Idlbi.
"Through an official, we found out that a judge sentenced her to execution for terrorism. The trial lasted 30 seconds."
According to Idlbi, Shweikani was then transferred to the infamous Saydnaya prison, just outside of the capital. "Since then our assumption is that she was definitely killed. Because usually you are executed within 48 hours [of a verdict]," he says.
That account matches the one given by the Syrian Network for Human Rights, which documents deaths in Syrian government custody. The monitoring group said it believes she was executed on 28 December 2016.
Since there was no official confirmation of her death at that time, Shweikani's family still held out hope that she was alive, and that she would be released. From the time they lost contact with her at the end of 2016, the Czech ambassador continued to make enquiries about her with the Syrian government and the case was followed by the then US envoy to Syria, Michael Ratney.
They did not know that she had been killed already, but according to a person familiar with the State Department's actions at the time, there was a lack of urgency to those efforts.
"They said they would ask the Syrian government to provide her with a fair and just trial. In no world would anyone trust the Syrian government to give a just and fair trial," says the source, who requested anonymity because of the sensitivity of the topic.
Shweikani's family finally learnt of her death just last month from a newly released civil registry – a government database that tracks births, marriages and deaths. It indicated that she had died on 28 December 2016, but did not provide details about the circumstances of her death.
Following the confirmation of her death, the White House has faced growing calls for a response to her killing. Donald Trump has made it a hallmark of his presidency to free Americans detained abroad, including a very public and ultimately successful campaign for the release of American pastor Andrew Brunson, who was jailed in Turkey for two years on charges of aiding a coup attempt against President Recep Tayyip Erdogan. But he has yet to comment on Shweikani's death.
Her case has now been taken up by Republican congressman Adam Kinzinger, who represents the Illinois district where Shweikani lived. In a hearing conducted by the House Committee on Foreign Affairs late last month, Kinzinger questioned the US special representative for Syria, James Jeffrey, on the Trump administration's response to her killing. He has yet to receive a response.
"I'm still waiting on an answer, and will continue to urge my colleagues to join me in putting pressure on the White House," he tells The Independent.
"I'm disheartened and shocked by the lack of outrage over Layla's murder by the Assad regime, and that there has been little to no media coverage on this either. I understand there are some classified details, but I'm disappointed that Ambassador Jeffrey was unable to say more on behalf of the administration about what happened to Layla and what the repercussions will be."
Charles Lister, a senior fellow at the Middle East Institute, who has testified before the House Committee on Foreign Affairs, called the US government response to Shweikani's death "shameful".
"I find it hard to imagine that we'd have witnessed such silence if Layla had been called Meredith and she'd been blonde-haired and fair-skinned. At the end of the day, an American was detained on false charges, sentenced to death by execution, and killed in the custody of the Assad regime – a regime our government continues to call brutal and illegitimate to this day," he tells The Independent. "I think the US government and the US media community needs to do some very serious soul-searching about what it means to be American."
But the case may also reveal something about the limits of US influence in a country that considers it an enemy. Robert Ford, the last US ambassador to serve in Syria before the embassy was shut down in 2012, said the lack of a formal communication channel with the Syrian government would have severely hampered efforts to have Shweikani released.
"I have a certain sympathy for the State Department's predicament. It's something we talked about when we closed the embassy in 2012, and it's why we issued strong warnings for Americans to leave the country when the embassy closed," he tells The Independent.
"I don't know how hard the State Department pushed this, but if they had wanted to make it a big deal they would have said something publicly, as they have done with other Americans missing in Syria," says Ford, now a fellow at Yale University and the Middle East Institute. He adds that government departments are also restricted by what they can say publicly about American citizens without the permission of the family, which may not have been given.
In response to a request for comment for this article, a State Department spokesperson said: "We are aware of reports of the death of a US citizen in Syrian regime custody. Due to privacy considerations, we have no further comment regarding these reports at this time." The White House declined to comment.
Many thousands of Syrians have perished in the same way as Shweikani. Amnesty International describes Saydnaya prison as a place where "murder, torture, enforced disappearance and extermination" has been carried out since the beginning of the Syrian civil war in 2011, "as part of an attack against the civilian population that has been widespread". The rights group estimates that between 5,000 and 13,000 people were extrajudicially executed at Saydnaya between September 2011 and December 2015.
Like Shweikani, the fate of many of those victims was unknown for years. Earlier in 2018, the Syrian government began issuing death notices for detainees at an unprecedented rate. Thousands were notified that their relatives had died years earlier. The causes of death given are often vague, but rights groups believe torture and improper care is the main cause of death for detainees in government custody.
"The vast majority of those arrested by the Syrian regime died because of torture and ill treatment in detention centres. In rare cases, they are sentenced to death through a so-called court," Fadel Abdul Ghany, the founder of the Syrian Network for Human Rights, tells The Independent.
"It's very difficult to verify how she died, through torture or execution. But the result is the same. The regime is responsible. The regime disappeared her. She died almost two years ago, and the regime just notified her family one month ago," he says.
According to Ghany, more than 80,000 people have been forcibly disappeared by the Syrian government. The fate of most of them remains unknown. He added that Shweikani's death certificate indicated that the civil registry was informed of her death on 7 November 2018.
As with the vast majority of deaths in government custody, Shweikani's family have not been given her body. Last week, a funeral service was held in Willowbrook, Illinois, where she lived.
Ghany said Shweikani's story has left many Syrians in shock.
"It sends an awful message that a democratic government has not shown an interest in its citizen," says Ghany. "What does that mean for Syrians who are struggling and suffered to achieve peaceful democracy in our country? The US is abandoning us."
scitizen," says Ghany. "What does that mean for Syrians who are struggling and suffered to achieve peaceful democracy in our country? The US is abandoning us."
independent