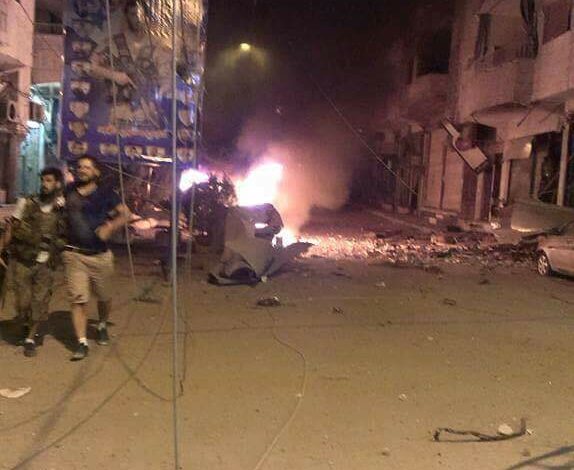 Breaking news
News
An Armed Group Launched an Attack on the Central Christion Neighborhood in Qamishlo City in Kurdistan of Syria
Yekiti-Media
An armed group attacked the Central Christian neighborhood in Qamishlo resulted in the loss of four civilian lives and injured more than five others.
A source in the neighborhood reported to Yeketi Media that the armed group consisted of more than eight people attacked the neighborhood; they were carrying grenades, and wearing explosive  belts " The source added " they were able to detonate Almiama restaurant , but the Surian armed group which is called " Souturo militia " were able to kill four of them, while the bombers blew themselves up , and the others fled away.
The source pointed that the latest attack resulted the loss of four people lives, three of them who were presented in Peace Hospital are: ( Thomas Elia " Abu Danny – who owns a restaurant hamburger – Karam, the shop owner of "Good morning" shop and Aziz, the owner of " Neymar" shop  , whereas the fourth died because of his serious wounds in National Hospital , and there were more than five other people wounded.
In the same context, the Islamic State ( Daash ) organization adopted this process, describing it " a qualitative process".
The Syrian regime has not announced officially about this process , and has not elaborate on the final number of the victims and the damages.
It is important to mention that the Central Christian neighborhood suffered from three suicide bombings adopted by IS terrorist organization since the beginning of 2016.