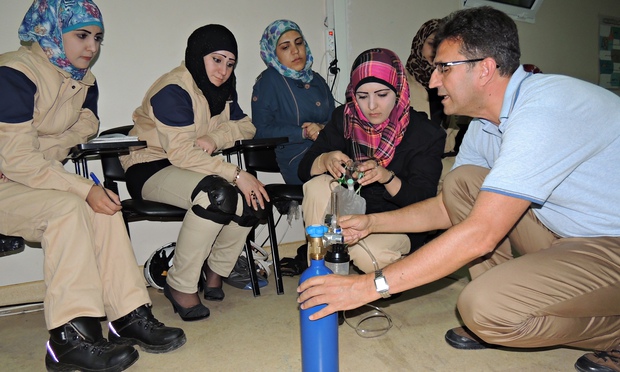 As barrel bombs rain down on the Syrian city of Idlib, Hasnaa Shawaf and her team spring into action. Armed only with basic tools and medical kits, they are first responders for the Syria Civil Defence, a volunteer organisation training the country's newest generation of search and rescue workers.
"I desperately wanted to help," says Shawaf. "I couldn't just sit and do nothing."
Shawaf was working as a maths teacher in her hometown of Maaret al-Numan when she heard about the Syria Civil Defence. When the war showed no signs of stopping soon, she began volunteering.
The volunteers serve communities in rebel-held areas facing sustained onslaughts from the regime. They fight fires, find survivors, stabilise injuries, transport casualties to the nearest field hospital, and help rebuild infrastructure. Meanwhile, the threat of double tapping – repeated bombings on the same location – is ever-present.
Since last October, more and more women have joined the White Helmets, as they're known. The organisation, set up in 2013, now has more than 2,200 volunteers and receives funding and support from international donors, including the UK. In the past, the interim government has financed teams, but the group says this does not detract from its commitment to impartiality. Volunteers pledge to save anyone in danger, whether a rebel, regime soldier or civilian.
Ebaa Tome was studying law in Idlib when the conflict turned her life upside down. "The start of the war meant I could not continue with my studies," she says. "So I decided to join to help rescue my people."
The women trained together in light urban search and rescue before travelling to Turkey to specialise in pre-hospital trauma life support.
"We are mainly emergency paramedics within the teams," says Shawaf. "We work from 8am to 3pm, but are always on call. If we are needed to respond to an incident, we will be ready."
"The White Helmets are ordinary people – tailors, teachers, plumbers, painters – who represent broader skills in society," says James le Mesurier, founder of non-profit Mayday Rescue, which trains and equips volunteers with AKUT, a disaster relief NGO in Turkey. "To date, they've rescued over 12,500 people alive from buildings bombed by the regime."
But for women such as Shawaf and Tome, joining the civil defence is far from easy. In a relatively conservative country, Syrian women found their role in the conflict slowly stripped away, as the civil war has taken on a more military and Islamist footing.
Ola Suliman from Homs, project officer at Mayday Rescue, says that many women were active in the early part of the war, taking part in widespread protests. Yet they faced initial opposition to becoming search and rescue workers, not only from their families but from men already in the teams.
"We were afraid of people's reactions. At first, it was strange for everybody to see a woman doing civil defence jobs," says Tome. "We used to work all the time, but it is now hard to work as women in the current situation."
As people began to understand how the female White Helmets could help in emergencies, attitudes were quick to change. Majd Khalaf, media liaison for Syria Civil Defence's Idlib faction, recalls one incident that made him realise the importance of having female volunteers: "We had responded to a bombing of a house a few months ago, but the father would not allow men to go in to rescue his daughter." It was a heart-stopping moment.
"Simply put, blasts not only rip through windows and tear apart buildings, but rip off clothes," le Mesurier tells me later.
Khalaf continues: "So the women went in, stabilised her, covered her up and moved her outside. Everything went smoothly." Recruiting female members in teams is now more vital than ever, since it is something the local communities have requested themselves, ​says ​le Mesurier.
The White Helmets all agree they are transforming perceptions about Syrian women​. "We are definitely changing mindsets," says ​Shawaf. "Once people realised how useful we could be, they became really supportive and even started encouraging their sisters to join us!"
Recently, the group ​collected $100,000 through a fundraising campaign on Indiegogo, enough to buy six ambulances from Turkey for the women to use. ​Suliman says​ the women are ecstatic ​about the ​support they have received, but still rely on donations from the international community. With better resources, they would not only save more lives, but feel safer ​while doing their jobs, she ​says.
"To save one life is to save all of humanity," is the White Helmet's maxim and the group ​continues to gain popularity and momentum. "Kids hang around the civil defence stations, playing at being defenders, whereas at the start of the conflict, they would be playing war," says ​le Mesurier. "It would be the 'good guys', or the heroes, versus the bad guys. Now there are only heroes, and they're the ones wearing the white helmets."
The Guardian