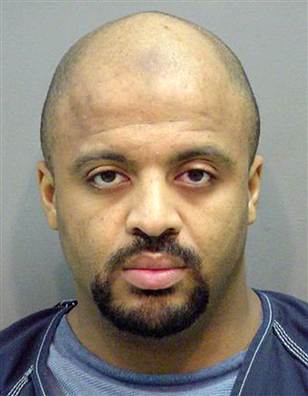 Zacarias Moussaoui, the so-called 'twentieth hijacker' in the 9/11 plot, has alleged that Saudi diplomat discussed plans to shoot down Air Force One
Former top-level US intelligence officials have lined up to discredit explosive allegations by a convicted al-Qaida operative that senior members of the Saudi royal family supported the extremist network, and that a Saudi diplomat discussed plans to shoot down the US presidential plane Air Force One.
Zacarias Moussaoui, the so-called "twentieth hijacker," made the accusations in testimony filed in Manhattan federal court on Monday by lawyers for victims of the 9/11 terror attacks who accuse Saudi Arabia of providing material support to al-Qaida.
Robert Grenier, the CIA's former counterterrorism chief, said Mousaoui's allegations were "inconceivable." A former top Navy terrorism investigator, Robert McFadden, likened claims of official Saudi backing for the devastating attack to "a unicorn."
But the allegations – which came just a week after the US government made an ostentatious reaffirmation of US friendship following the death of Saudi King Abdullah – have once again focussed attention on the wisdom of Washington's oil-fueled alliance with a leading exporter of Islamic extremism.
Moussaoui, whose trial for his involvement in the 9/11 plot exposed a history of mental illness, echoed longstanding allegations that members of the Saudi royal family helped bankroll al-Qaida ahead of the attack.
But he also made a dramatic new claim, alleging that he discussed a missile attack on Air Force One with a diplomat from the Saudi Embassy in Washington.
In a statement to the New York Times, the Saudi Arabian embassy in Washington rejected the charges. "Moussaoui is a deranged criminal whose own lawyers presented evidence that he was mentally incompetent. His words have no credibility," the statement said.
In his deposition, Moussaoui described drawing up a database of al-Qaida donors, who he said included some "extremely famous" Saudi officials, including Prince Turki al-Faisal Al Saud, a former Saudi intelligence chief and Prince Bandar Bin Sultan, the longtime Saudi ambassador to the United States.
"Shaykh Osama wanted to keep a record who give money because … who is to be listened to or who contribute to – to the jihad," Moussaoui said.
He claims that al-Qaida had considered attacking the US embassy in London with a truck bomb. He also said the group had discussed the feasibility of "shooting Air Force One," with a Stinger surface-to-air missile, claiming that he had attended a meeting in the Afghan city of Kandahar with an official from the Saudi embassy in Washington.
"I was supposed to go to Washington and to go with him find – to see a location – to find a location where it may be a – suitable to launch a stinger attack and, then, after be able to escape," he said. Moussaoui's trip to Washington never to place because he was arrested soon after.
Several ex-intelligence officials contacted by the Guardian expressed skepticism about Moussaoui's claims. All drew a distinction between more plausible claims that individual Saudis aided al-Qaeda in their private capacity and less plausible ones of official Saudi Arabian backing.
Eleanor Hill, a senior staffer for a critical congressional study into the attacks, said she had never heard of the Air Force One claim.
A former senior CIA official said: "Air Force One is new, but I do recall some accusation that official-but-not-officially Saudis were involved. The official, speaking on condition of anonymity, said the agency took the accusation seriously, but said "I don't think any evidence really surfaced, aside from vague plans."
Grenier, the agency's senior officer in Pakistan during the 9/11 attacks and later director of its Counterterrorist Center, said Moussaoui was resurrecting a discredited conspiracy theory. Asked if Moussaoui's Air Force One claim was plausible, Grenier replied: "Absolutely not."
"The Saudis in the past had been willing to try to pacify those who would otherwise be opposed to them, but there is absolutely no evidence of official Saudi involvement with or support of al-Qaida," Grenier said.
"The reason Osama bin Laden went to Sudan in the 1990s in the first place was because he was under pressure from the Saudi government," Grenier said. "The idea they'd be supporting him under any circumstances, and in particular in an attack on the US, is inconceivable."
Yet official US secrecy has fanned the flames of suspicion of Saudi complicity in 9/11.
For over a decade, both the George W Bush and the Obama administrations have suppressed 28 pages of a 2002 congressional report into the attacks that discuss the question of Saudi involvement. One of that report's architects, the former Senate intelligence committee chairman Bob Graham, has long stated his belief in official Saudi culpability.
Graham called again for the declassification of the Saudi-relevant portion of the report last month, on the grounds that the American public has been deprived of understanding a critical aspect of the worst terrorist attack on US soil.
Shortly after the terrorist attack in France, Graham said there was "a threat to national security in nondisclosure and we saw another chapter of that today in Paris." A spokesman for Graham said the former Florida Democrat was unavailable for comment.
Hill, who as a congressional staffer helped write the censored 28 pages, said classification rules prevented her from discussing them. But she said she had not heard about the Air Force one claim, and noted that prison confessions can arise from motives that call their credibility into question.
Still, she added, "people need to really seriously consider whether they can declassify more of this report."
Bin Laden had a complex and murky relationship with the Saudi royal family. He was a liaison to Saudi intelligence while fighting in the 1980s Afghanistan war against the Soviet Union. "We were happy with him. He was our man. He was doing everything we asked of him," a former senior Saudi intelligence official told Steve Coll for his book Ghost Wars.
Yet that support came before bin Laden's break with the Saudi royal family, which rebuked his plan to defend the kingdom from Saddam Hussein in 1990 in favor of welcoming the US military into the country. That split led bin Laden to consider the Saudi royals an apostate government. Al-Qaida in 2003 executed a major terrorist attack in Riyadh.
The US alliance with Saudi Arabia stretches back to Franklin Delano Roosevelt and trades oil for US security guarantees. The Saudi royal family's relationship with extremist Wahhabi clerics has put it under scrutiny, if not exactly strain, since 9/11. Its human rights abuses – including beheadings, vicious executions of gay people and suppression of women – prompted scorn amongst campaigners after Obama visited Riyadh to recommit US support after the 23 January death of King Abdullah.
McFadden, a former terrorism specialist for the Navy Criminal Investigative Service now with the Soufan Group, drew a sharp distinction between "official involvement" and "the private-citizen part."
"It's difficult even in police states to determine, discover and mitigate" terrorist threats, McFadden said.
The Guardian