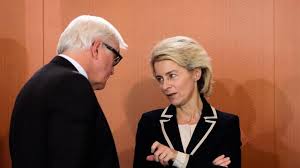 (Reuters) – German Foreign Minister Frank-Walter Steinmeier on Friday told Reuters he supported the U.S. bombing of Islamist fighters in northern Iraq because that was, for the time being, the only way to stop their progress.
"In the short term air strikes seem to be the only way to prevent an advance by (Islamic State) and to open up escape routes," Steinmeier said.
"Now it's a matter of preventing genocide and freeing the affected people from their terrible plight."
U.S. warplanes carried out attacks on Friday after President Barack Obama said Washington must act to prevent "genocide". [ID:nL6N0QE2EK]
Earlier on Friday Steinmeier had strongly criticized the Islamic State and said Shi'ites, Sunnis and Kurds needed to put their power struggle aside and agree on a new government to stop the Islamist forces which have taken over swathes of the north.
On Friday the German Foreign Ministry set up a crisis unit on the situation in northernIraq and boosted humanitarian aid.
The ministry said the security situation in the north was very volatile and unpredictable.
"We therefore warn against travel to the Kurdish region of Iraq," it said, adding that people there should take measures to leave at short notice if necessary.