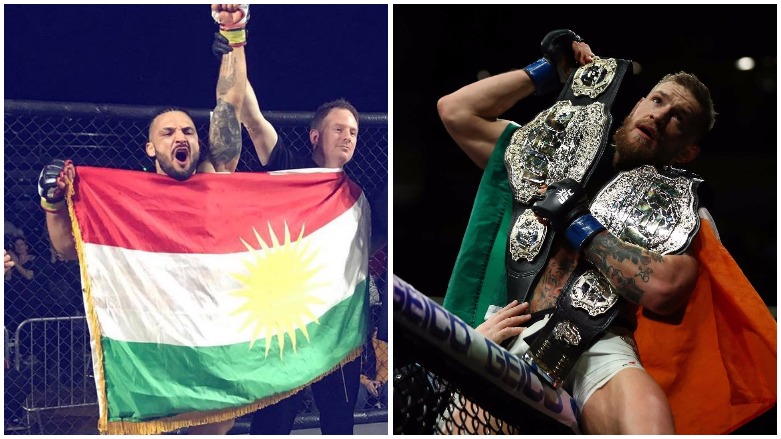 Yekiti Media
A professional Kurdish Mixed Martial Artist from Sulaimani says he wants to make his Ultimate Fighting Championship (UFC) debut in 2019 and plans to fight former two-division champion Conor McGregor.
Mario Saeed, who fights out of Cheltenham, Gloucestershire, in the United Kingdom, told Kurdistan 24 in a recent interview that he wants to compete in the UFC and has his eyes set on a fight with McGregor.
The 28-year-old Kurd, who holds a professional fighting record of 10 wins and four losses, is considered a ground specialist with eight of his 10 victories coming via submissions.
Saeed said he is one of the only Kurds from Kurdistan who holds a black belt in Brazilian jiu-jitsu, which indicates an expert level of skills in the fighting style
Asked if he could beat McGregor in a fight, the Kurdish MMA fighter said he is confident in his ground-game abilities, pointing to the Irishmen's weakness in that regard.
"Conor's strengths are in his boxing, but his ground game is not that good. I am one of the only Kurds from Kurdistan who has a black belt," Saeed told Kurdistan 24.
Saeed noted that he had trained with McGregor in the past, when both fighters were under contract with the Cage Warriors organization, one of Europe's leading MMA promoters. However, the Kurd now fights for a rival camp, the American Kickboxing Academy, that of current UFC lightweight champion Khabib Nurmagomedov, one of McGregor's fiercest rivals.
"I am no longer on McGregor's side. Khabib and I train and fight out of the same camp. He trains at a club in California and I train at a club in Thailand. As we are teammates, I support Khabib. In the future, I have my eyes set on a fight with McGregor," Saeed stated.
The 28-year-old began his fighting career as a boxer before moving on to kickboxing. Due to the rules in boxing and kickboxing which prevented him from fighting his opponent on the ground, Saeed decided to pursue MMA.
Although the fighter is well-known in Europe and North America, his fellow Kurds have not heard much about him. He says this is because of the lack of training facilities in the Kurdistan Region.
"The reason I haven't been to Kurdistan is that there are not enough facilities to train at," he told Kurdistan 24. "In the UK and Thailand, each gym has over 400 people to fight and train with."
"I hope to come to Kurdistan one day and share my experiences with aspiring athletes, and give my fellow Kurds the same opportunities I had abroad."
Up next for Saeed is a one-month training camp in Thailand before he goes to Colombia for a wrestling match on March 27 where he will defend his belt. After this, he says he will fight in the UFC.
"I hope that in 2019 I can fight in the UFC. I also hope the Kurdistan Region continues to support me so I can open training facilities here and share my experiences, and instead of visiting once every 20 years, I can come back to Kurdistan every year."
K24