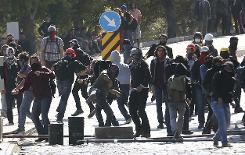 At least 31 people have been killed and 360 others injured in a four day "spiral of violence" in Turkey led by pro-Kurdish protesters demonstrating against the government's policy on Syria, the interior minister said Friday.
Interior Minister Efkan Ala pledged that the government would press on with efforts despite the violence to make peace with Kurdish rebels who have a waged a 30-year insurgency for self-rule in the east of Turkey.
In addition to the toll of 31 people killed in protests, two policemen were shot dead in the southern city of Bingol late Thursday while inspecting the scene of a demonstration, Ala told reporters.
Bingol province's police chief was seriously wounded in the attack.
Five "terrorists" suspected of gunning them down were themselves killed by the security forces, Ala confirmed.
"This spiral of violence should immediately be stopped," he said in a statement.
"Everyone should do their part to put an end to these incidents. We should all stand in solidarity with each other."
Ala said that clashes broke out in 35 cities, and 221 civilians and 139 security officials including police were wounded.
Over 1,000 people were detained and 58 people have formally been arrested for their involvement in the protests which caused damage to 212 schools, he said.
The violence, which has been concentrated in south-eastern Turkey but also flared in Istanbul and Ankara, has been among the worst rioting seen in the country in years.
The official toll has already well exceeded the number of eight people confirmed to have been killed in the May-June 2103 nationwide protests against the ruling party.
According to the official Anatolia agency, most of the deaths occurred in Diyarbakir, Turkey's main Kurdish city, where 11 people were killed.
The fatalities were mainly concentrated in the southeast of Turkey but one person died in protests in Istanbul, it said.
The latest deaths happened late Thursday in the southeastern province of Gaziantep, where at least four people died in clashes between rival groups armed with rifles, pistols and axes, the Dogan news agency reported.
But Ala said the government would continue efforts to make peace with the outlawed Kurdistan Workers Party (PKK) whose supporters were heavily involved in the violence.
"We know that our people condemn vandalism, hatred and chaos. We are doing our best to make sure these are not going to happen again," he said.
The demonstrators responded to a call late Monday by Turkey's main pro-Kurdish party for protests against the government's lack of action to stop the Syrian border town of Kobane falling to jihadists.
But some of the deadly violence has been blamed on clashes between PKK supporters and backers of the Kurdish Sunni fundamentalist group Huda-Par which is sympathetic to IS.
APF