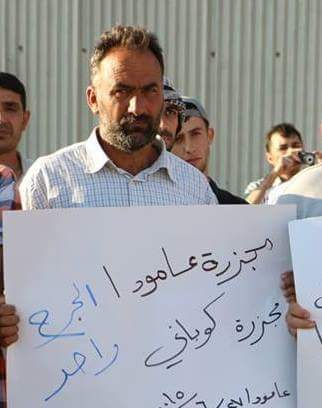 Yekiti media – Amouda
Begin on Thursday 16-06-2016 Majdel Haj Qassim ( Subcommittee member in the Amouda city organization of Yekiti Kurdish Party in Syria) 21 days in PYD prisons against a background of a brawl in which his opponent dropped right on the melee night.
Majdel arrested by PYD security gunmen against a background of an altercation between him and Mr. Suleiman Khwarzy ( a supporter of PYD ) from Tal-Habash village, in front of the military police building which belongs to PYD security during the audit them against the surroundings of the kidnapping of his minor son Zinar Haj Qassim (16 years ) under the pretext of forced conscription according to assertions Majdel's family to Yekiti Media, who added that: some of the city dignitaries intervened to reconcile tow sides and dropping the complaint by PYD supporter, which was released directly by PYD security, and retained subcommittee member of Yekiti Kurdish Party in Syria under a pretext of completing the procedures that were supposed to last for more a half hour as they claimed, but Majdel is still being held after 21 days of the brawl without his family visited him or knew something about him or his detention place.
Majdel's family told our website that: sources of PYD security reported them that Mr. Suleiman had said to PYD security that Majdel face of insults to Mr. Abdullah Oclan,But Majdel's family have made it clear to Yekiti Media that: the arrest process of Majdel did not come pure coincidence, but it was planned by Mrs. Edleh Mohammed Ali Ibrahim ( Begy) and security committee of PYD security.
His family completed saying: " Majdel was Commune, Mrs. Edleh and her family interrupting because of Amouda massacre, which claimed lives of six martyrs, including martyr Aras Bengo, who was gathered by a warm friendship with Majdel, even Mrs. Edleh always been repeated " Majdel judges us on killing Bengo's son ".
And they contend the plot details citing the arrest of his minor son under a pretext of forced conscription deliberately in order to be implicate and arrest him,and they added that: it was for them after Mr. Suleiman induction to extort Majdel over tow consecutive days until he was slapped by Majdel in front of witnesses in military police building while he was reviewing his detainee minor son matters.
Majdel's family contend that: Mrs. Edleh Mohammed Ali Ibrahim, Mr. Suleiman Khwarzy and PYD security bear responsibility for any attack or harm to their son because they were despicable arms of intrigue, as Majdel is still unaccounted for despite their search relentless with him, so for and the PYD security does not confess the detention place.