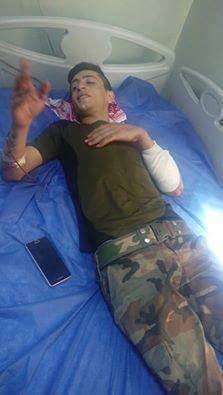 Breaking news
News
Martyrdom of the Peshmerga, "Ibrahim Hamza Farho and Habib Mohammed Saeed" of Peshmerga Roj in Khazer front
Yekiti Media
A number of Peshmerga – Roj martyred and wounded on Sunday during the battles against the terrorist organization IS in Khazer front.
According to Yekiti Media sources, Peshmerga Habib Qadri Mohammed Saeed Haji, and the Peshmerga Ibrahim Hamza Faraho, of Peshmerga Roj martyred during the battles against the terrorist organization IS (Daash) today, as Peshmerga Massoud Jankier wounded during that battle.
Peshmerga forces have begun at 05:30 of Sunday morning, a process from several directions against Daash terrorists in order to restore 10 villages Khazar and Alkwyr fronts, while Daash tried to prevent the advance of the Peshmerga forces using five bomb cars without successful in blow up any one of them.
The process taking place with the participation of the Kurdish Peshmerga forces and the Peshmerga Roj in Alkwyr- Makhmour axis and Khazar axis under the direct supervision of the President of Kurdistan, and commander in chief of the armed forces in the Kurdistan region, Massoud Barzani.