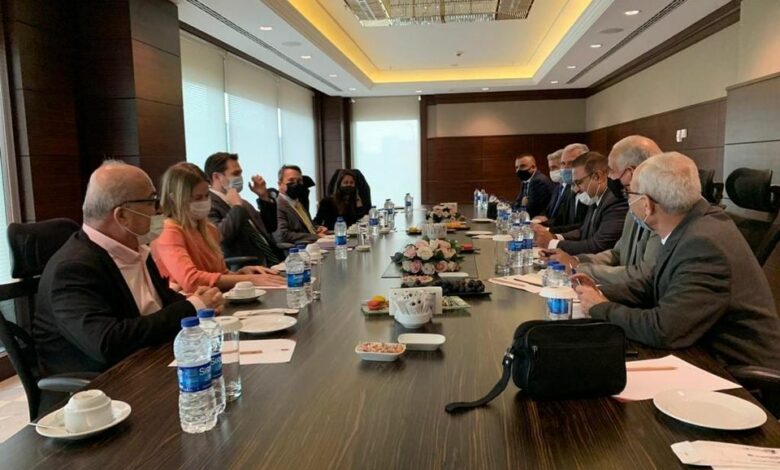 Breaking news
News
Press Release.. Peace and Freedom Front Delegation Meet U.S. Embassy Representatives in Istanbul.
Within the framework of the diplomatic tour carried out by the Peace and Freedom Front (PFF) in Turkey, the delegation of the Front met on Friday, November 13, with representatives of the American Embassy in Istanbul: Terence Flynn, Zahra Bell, Emily Brandt and Randall Caielo. While the front's delegation included Messrs. Wasif Al-Zab, Muhammad Ismail, Daoud Dawood, Suleiman Oso, Amir Al-Dandal, and Gabriel Koreya. This is the second meeting that the front holds with representatives of the United States responsible for Syrian dossier, a previous meeting took place in Hassaka, Syria, days after its establishment.
The PFF delegation briefly expressed its political vision, objectives and the purpose of its establishment, as well as, it emphasized that the front, with its political components, reflects the reality of pluralism in Syria, and it includes political forces that worked together and strengthened their relations and understandings in the context of the Syrian revolution, and functions within the frameworks of the national opposition. The delegation also stressed that it seeks to preserve civil peace and promotes coexistence among all Syrian Nationals of the area, and that it is open to work with all democratic opposition forces in Syria in order to expand the base of their participants to advance a comprehensive national plan that would fulfill the aspirations of all Syrians. Furthermore, thy also stressed that the front is looking forward to establishing better relations with the United States of America, due to its important role and influence in resolving the Syrian crisis.
The American delegation praised the political vision of the PFF and considered it very close to the vision of the United States, when it comes to resolve the Syrian crisis; and the principles contained in the political vision of the PFF are essential in building a modern democratic state. Regarding the Syrian crisis, it continues to adhere to the implementation of Resolution 2254 as a road map for a political solution in Syria, and to continue to support the Syrian opposition as the legitimate entity to represent millions of Syrians. The US delegation indicated that the United States pays great importance to supporting stability in northeastern Syria by supporting the Kurdish-Kurdish dialogue as it is part of a comprehensive dialogue that will include all components of the region, Arabs, Kurds, Assyrian Syriacs and others; and stressed that the PFF is capable to play an important role in unifying the opposition.
The PFF delegation also met with the French Consul Mr. Antoine, responsible for the Syrian dossier in Istanbul, and expressed admiration for the front's political vision and their support for these directions to solve the Syrian crisis in accordance with international resolutions, especially Resolution 2254, and also showed that the French government's support for the Kurdish-Kurdish dialogue as a step towards unifying the entire Syrian opposition.
Istanbul, 13/11/2020
Peace and Freedom Front.