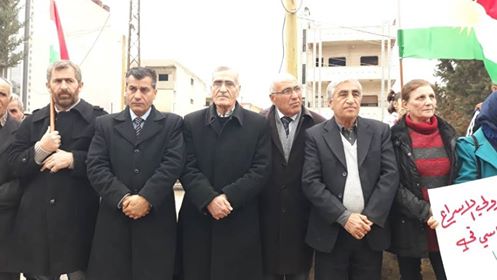 Yekiti Media
The Kurdish national council "ENKS" organized a sit-in in Qamishli city on the occasion of the 70TH anniversary for the world day of human rights declaration .
And the participants raised banners denounces crimes and abuses of the Syrian regime and the armed gangs in Afrin city.
And Fasla Yousef the leadership in the "ENKS" is listed through her words; the violations committed by the Syrian regime against the Kurdish people and what the organization of the Islamic State "ISIS" has been doing in Kobani.
And she condemned the armed gangs which came with the Turkish army in the invasion of Afrin and the practice of kidnapping, killing and armed robbers.
she also condemned the violations of the Democratic Union party "PYD" against the Kurdish people in the attempt of ending the political life in Kurdish areas.