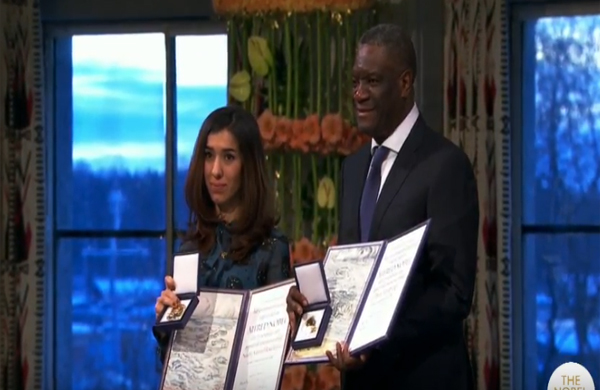 Yekiti Media
The Kurdish Yazidi and the United Nations Goodwill Ambassador received the Nobel Peace Prize on Monday 10-12-2018 in the Norwegian capital of Oslo.
The Nobel winner Yazidi activist Nadia Murad said: the award and official receipt of the prize was a day that good won against evil and humanity against terrorism.
"Today is a special day for me, the day on which good won over evil, and women who have suffered the perpetrators have won, and today marks the beginning of a new era when peace is a priority," Murad said during her Nobel Peace Prize speech.
"I lost my brothers and my brothers' children by dae'sh, and the organization tried to erase the Yazidi component," she said.
"I do not want more sympathy. If the international community is serious, it has to protect the Yazidis under international protection, without which there is no guarantee for the survival of this component.
The United Nations Goodwill Ambassador, Yazidi Nadia Murad, was awarded the Nobel Peace Prize, jointly with Congolese obstetrician Denis McQueigh, on Friday (October 5, 2018) for their activities against sexual slavery and enslavement.
Murad won the award in Iraq as the first woman to win the Nobel Prize annually in Norway.
Murad, born in 1993 in the village ofKujo in the Shangal district, was captured in 2014 by ISIS who also took  thousands of girls.
PUK