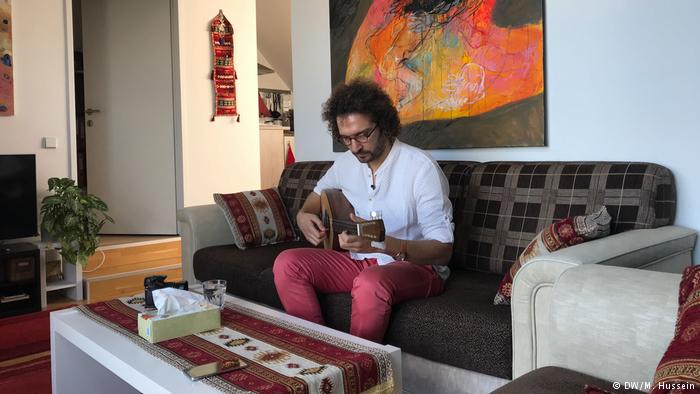 Yekiti Media
Salah Ammo is Kurd & from Syria.Two years ago he was stranded on the run in Vienna. All he brought with him washis Bouzouk (a Syrian long-necked lute), his music, a lot of passion, a lot ofhope and his (also musical) dreams. And a smile that has left the desolation behind. "Being a refugee is not a good feeling.
Something in you is changing. You have studied and learned a lot, you have knowledge in yourself and ability, but suddenly your abilities are of no value anymore ", Ammo recalls his arrival at the first reception center Traiskirchen.
For three months he was nobody. His passport and papers had been taken from him, his identity. Previously, he lost him in his homeland: when his neighbors and friends were killed in the political turmoil, Salah stopped Making music because he did not want to support the system by playing in their concert halls and because his creativity was no longer there.
When Ammo left Syria, he still though the would come back after half a year, when the situation calmed down.
That was. Meanwhile, his music tells of the desires of a man who had to flee and found a new home: in Vienna, in Austria, in the Porgy, in the greenhouse: in music.
Salah Ammo was born in 1978 in Darbasiyah, a village in northeastern Syria, into a Kurdish family. After graduation, he studied agricultural engineering for a year because his father wanted him to learn something meaningful.
But Ammo's heart beat in a different rhythm. During his time in Damascus, 750 kilometers away from his home village,he began to take private music lessons with a Bouzuk teacher.
He mastered the lute instrument so fast and so well that the teacher suggested that he apply to the conservatory.And Salah Ammo made the recording – without music theory training, with his talent.
Before moving to Damascus to study at the Higher Institute of Music, Salah Ammo resided in the north of Syria, where Kurds, Arabs, Syrians, Armenians and Assyrians lived together for thousands of years.
He was influenced by the diverse music of these people and gained experience in performing it himself. His ensemble Joussour (Bridges) is considered to be one of the most important bands presenting the music of these cultures.
He has worked in various fields of music as a bouzouk player, composer and singer, as a teacher at the Music Academy in Homs, Syria, and has participated in music workshops and concerts throughout the Arab world and Europe.
Salah Ammo has released three albums:Morning Breeze (2010) with his own compositions for bouzouk, voice and accompanying instruments, Places and Directions (2011) with his band Joussour,and Assi – A Story of a Syrian River (2014) with Austrian percussionist Peter Gabis.
"Learn morea bout peoples and religion and spirituality. And I would learn more languages,"would be Salah Ammos advice to his 14-year-old self. The Syrian Kurdish Musician it practicing a lot, writing mails and goes to meetings.
In Austria he is working in two projects at the moment. Music has to do a lot with talent in his point of view."To create music – you could learn it, but it's inspired by your character. It comes from your heart."
PUK