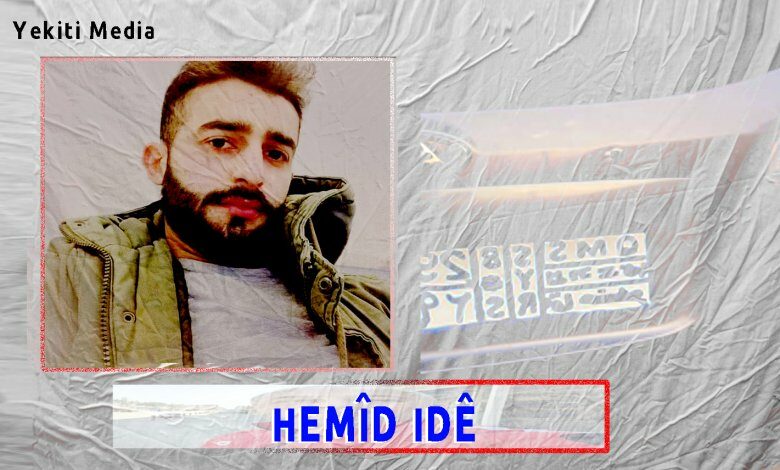 Reports & Files
Statement – Attempted assassination and kidnapping of Hamid Marwan Îdê
We follow in the human rights and civil organizations undersigned on this statement, with great concern, that masked men belonging to the Autonomous Administration attempted to assassinate the young man "Hamid Marwan Îdê " by targeting his car with live bullets during the day on 12.06.2022 in the Masaken neighborhood in the city of Amuda, and from then he was kidnapped from his grandfather's house to an unknown destination on the same day and his car was impounded in the areas controlled by the Autonomous Administration in Syria.
The young man, Hamid Marwan Îdê , resides in Germany, and he was on a visit to his hometown in the city of Amuda, and his fate is still unknown until the time of writing this statement.
In light of the catastrophic living and life conditions experienced by the regions of northeastern Syria, as a result of the complex siege and threats of terrorist forces on the one hand, and the Turkish state's threats to launch a military operation on the other hand, it was better for the Autonomous Administration authorities to protect the citizen and ensure his safety and secure his livelihood, not arrest and hiding him.
We in the undersigned human rights and civil organizations call on the concerned authorities to immediately release the aforementioned kidnapped Hamid Ide, release him, release his car, and prosecute those involved in the attempt to assassinate and kidnap him from members of the Autonomous Administration authorities, according to the testimonies of his relatives, and for all other prisoners of conscience with their services, We stress to turn the page on the repeated violations that threaten the structure of society and undermine all efforts aimed at stability, as well as adherence to all relevant human rights standards and serious work to preserve and promote individual and collective freedoms.
Qamishli 18.06.2022
Signing organizations:
1 – The Human Rights Organization in Syria – MAF
2 – The Kurdish Committee for Human Rights (Monitor)
3 – Organization for the Defense of Prisoners of Conscience in Syria – Roanke
4 – The Kurdish Organization for Human Rights in Syria (DAD)
6 – Kurdish Women's Organization
6 – Ahmed Bonjak Center for Supporting Freedoms and Human Rights
7- Democratic Center for Human Rights in Kurdistan (DCHRK)
8 – Mahabad Organization for Human Rights MOHR
9 – Free Kurdish Women's Organization
10 – The Human Rights Committee in Syria (MAF)
11 – Syrian Kurdish Women's Association
12 – Lêkolîn Center for Legal Studies and Research, Germany
13 – The Human Rights Committee of the National Democratic Gathering in Syria
14 – Kurdistan Civil Society Forces
15 – Syrian Kurdish Civil Forces Gathering