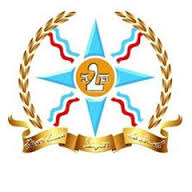 #Yekiti_Media
Armed patrols of Asayish, which belong self-administration of Democratic Unionist Party (PYD), Wednesday evening, March 15, 2017, raided the headquarters of the Assyrian Democratic Organization in Hasaka city and closed it with chains and sealing wax in implementation of Decree No. 5 issued by the administration.
The Assyrian Democratic Organization condemns this behavior, which constitutes a flagrant violation of the most basic standards of public rights and civil liberties, which is guaranteed by international conventions. and it is merely a repressive practice emanating from a de facto authority that lacks legal and popular legitimacy. And reminds us of the practices of the repressive regime and its security apparatus, which has been closed the headquarters of the Democratic Assyrian Organization in 2011 and 2012. Ironically, this disgraceful behavior coincided with the anniversary of the uprising of the Syrian people in order to restore their freedom and dignity. It demands self-Administration to reverse these practices, reopen the headquarters of the Assyrian organization and the headquarters of the rest of the political parties and stop the policies of arrest and mute mouths. and follow an open policy on all forces in society to find a national consensus formula that accommodates everyone according to the logic and values ​​of the time.
The closure of the headquarters of the Assyrian organization in Hasakah, which was also the seat of the Civil Peace Commission and civil, cultural and charitable work, it is a silencing of the peaceful political struggle, civil action and hostile behavior to all efforts to promote stability and protect the civil peace and coexistence. And pushed the Syriac Assyrian people, and Christians in general, to further panic and fear of the future, and the tightening of the restrictions on them, to add to the series of what has been happened to an original component of the killings, displacement and arrests by the forces of tyranny and terrorism.
The Assyrian Democratic Organization, which was founded in 1957 and made many sacrifices in order to achieve democratic change and to extract recognition of the existence of Assyrian Syriac people in Syria, does not wait for the approval of the illegitimate powers that have been extended by force of arms. On more than one occasion, the organization expressed its rejection of this logic of imposition, obedience and exclusion. And called for the establishment of effective and balanced partnership factors for all the components of the region in managing its affairs, as it is the only way to achieve stability and provide a climate of freedom and democracy.
Syria has lived a free homeland for all its people
Syria on 15 March 2017
Democratic Assyrian Organization
information Office