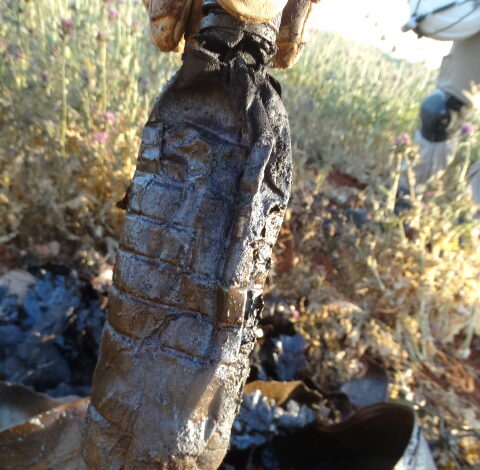 (New York) – The Syrian government renewed its use of apparent toxic chemicals in several barrel bomb attacks in Idlib governorate in April and May 2015. Human Rights Watch interviewed local doctors and first aid responders to the sites of three attacks and analyzed photographs and videos of weapon remnants. The attacks were in violation of the 1993 Chemical Weapons Convention, the laws of armed conflict, and a 2015 United Nations Security Council resolution.
The ongoing use of toxic chemicals in attacks gives greater urgency to tentative Security Council negotiations to create a mechanism to determine responsibility for the use of such illegal weapons. The Security Council is meeting on June 3 for its regular monthly briefing on chemical weapons in Syria.
"While Security Council members deliberate over next steps at a snail's pace, toxic chemicals are raining down on civilians in Syria," said Philippe Bolopion, UN and crisis advocacy director. "The Security Council should firmly establish responsibility and impose sanctions for these attacks, which defy its resolution and violate international law."
Human Rights Watch conducted inquiries into three separate attacks in May in Idlib governorate, through interviews with three rescue workers who responded to the attacks, one of whom was affected by exposure to toxic chemicals, and two doctors who treated victims. Experts also reviewed photographic and video evidence. Two of the attacks took place just hours apart on May 2 in the nearby towns of Neirab and Saraqib, and the third on May 7 in the village of Kafr Batikh. The three attacks killed two people and affected 127 others, according to information collected by doctors who treated victims.
Human Rights Watch was not able to conclusively determine the toxic chemicals used in the three attacks. However the distinctive chlorine smell reported by rescue workers and doctors from attacks over the past two months, and the Syrian government's previous use of chlorine, indicate this chemical was used in some if not all of the attacks.
Keith Ward, an independent expert on the detection and effects of chemical warfare agents, reviewed the clinical signs and symptoms described to Human Rights Watch and the videos of victims from the attacks on Neirab and Saraqib on May 2 and said they were consistent with exposure to a choking agent.
Ward noted that the best evidence of chlorine attacks are on-site descriptions of victims' clinical signs and symptoms, as well as the characteristic odor reported by the victims and first responders. Definitive detection of the agent involved is only possible by using a chemical detector near the site of the attack soon after it occurs, he said.
Human Rights Watch documented the use of barrel bombs embedded with cylinders of chlorine gas by government forces in Idlib in April 2014 and again in March 2015. Two doctors who treated victims in the May attacks also provided Human Rights Watch data they had collected from medical centers in the Idlib governorate on 21 additional attacks between March 16 and May 19 that led to symptoms consistent with exposure to toxic chemicals. They reported that the 24 attacks during this period killed at least nine people and affected more than 520 others with symptoms consistent with exposure to chlorine. Human Rights Watch has not yet been able to investigate the additional reported attacks.
The use of chlorine as a weapon in Syria has been previously documented. The Organisation for the Prohibition of Chemical Weapons (OPCW) fact-finding mission found in September 2014 "with a high degree of confidence, that chlorine was used as a weapon systematically and repeatedly in three villages in northern Syria."
The Chemical Weapons Convention, which Syria acceded to in October 2013, prohibits attacks that use an industrial chemical as a weapon. Among other obligations, each member country agrees never to "assist, encourage or induce, in any way, anyone to engage in any activity prohibited to a State Party under this Convention."
The laws of war applicable in Syria prohibit the use of chemical weapons. The use of prohibited weapons with criminal intent, that is deliberately or recklessly, is a war crime.
On March 6, the UN Security Council adopted Resolution 2209 in which it expressed concern that toxic chemicals had been used as a weapon in Syria and threatened to impose sanctions against any party using chemical weapons in Syria.
"The Syrian government has used barrel bombs with toxic chemicals for more than a year while the Security Council has failed to act," Bolopion said. "If Security Council members still have doubts about who is to blame for these attacks, they should immediately create a mechanism to identify responsibility for these attacks so they can start discussing how to hold them accountable."
The May 2 Attacks
On May 2 between midnight and 1 a.m., a barrel bomb struck the courtyard of a family home in the village of Neirab, injuring 12 members of the family. Firas Kayali, a rescue worker with the Idlib chapter of the Syria Civil Defense group, was among the first to arrive at the scene. The Syria Civil Defense is a group of rescue workers operating in areas outside the control of the government.
Kayali told Human Rights Watch that his medical response team was alerted that a helicopter was approaching their area by volunteers monitoring aircraft deployment to the south. He heard a helicopter overhead. Some minutes later, monitors in Neirab informed his team that a barrel bomb had been dropped.
When he arrived at the home in Neirab, Kayali told Human Rights Watch, he tried to enter three times but was overwhelmed by toxic fumes:
It was like the smell of household cleaning products, but much more concentrated. I couldn't stay in the house for more than 30 seconds. My lungs and eyes were burning, my eyes began streaming. The second time, in addition to the burning and tears, I couldn't breathe, I was coughing violently, just coughing, coughing. I saw a small child wrapped in blankets but I couldn't reach him. The third time, fluid started streaming from my eyes, my nose, and my mouth. I felt like I was going to pass out. I started running and I lost consciousness. I didn't wake up until other civil defense workers washed me with water.
At a nearby field hospital, Kayali was treated with oxygen and given a dose of atropine, a medicine with multiple uses that is commonly used to treat excessive buildup of fluids in nasal passages and airways to the lungs, as might be caused by exposure to choking agents such as chlorine gas. Two other responders to the attack who arrived after Firas noted the strong smell of chlorine in the air at the house, and on their clothing after they spent time at the site.
Mohammed Tennari, the head of the Sarmin field hospital, said he treated victims following the May 2 Neirab attack. He said they exhibited symptoms consistent with exposure to a toxic chemical including difficulty breathing, a feeling of choking, and burning eyes. Tennari said the victims of earlier chemical attacks exhibited similar symptoms. "We diagnosed them with exposure to toxic gases," he said.
Two of those exposed during the May 2 Neirab attack later died: the young boy Kayali saw, who died within hours of exposure reportedly from suffocation, and his father, in his 60s, who died at a hospital in Turkey a few days after the attack. Human Rights Watch has not been able to establish the cause of death from doctors in Turkey. Human Rights Watch also reviewed video footage from the attack site, which showed metal fragments of a barrel, as well as what appeared to be remnants of a refrigerant canister.
Later on May 2, at about 3:30 a.m., two more barrels bombs struck the nearby town of Saraqib, said Laith Faris, an Idlib Civil Defense rescue worker who responded to both attacks that morning. Faris told Human Rights Watch that the barrels fell on neighborhoods in the eastern and western parts of the town, but that because of strong winds, fumes reached the town center. He said that the fumes affected about 75 people.
Another rescue worker, Mouti'a Jalal, who also responded to the Saraqib attack, said that victims had reddened eyes, difficulty breathing and the feeling of choking, and became red in the face. Some vomited, he said. He noted a strong smell of chlorine in the air at the attack site. Human Rights Watch also reviewed photographs of barrel bomb remnants from the Saraqib attacks, which included photographs of what appeared to be a refrigerant canister, a plastic bottle that a rescue worker said was filled with a reddish-purple powder, and metal remnants of the barrel bomb, also marked by a reddish-purple powder. It is unknown what role, if any, this powder may have played in the attacks or their medical consequences.
The May 7 Attack
Another chemical barrel bomb attack appeared to have occurred at about 3 a.m. on May 7, in the village of Kafr Batikh, in Idlib governorate. Faris, the rescue worker, was among the first to arrive at the attack site. He said that before the attack while he was in Saraqib, about seven miles from the village, he heard a helicopter approaching. However, Human Rights Watch was unable to review any videos or photos of the aftermath of this attack.
Walid Tamer, a doctor from Saraqib, told Human Rights Watch that following the attack he treated 17 people, including 8 children, at an emergency medical site. The victims vomited, and had reddened faces and eyes and painful and swollen larynxes. He said that their clothing had the strong smell of chlorine, similar to chemicals used for household cleaning purposes. Faris said he had also observed these symptoms in the victims he helped treat.
www.hrw.org