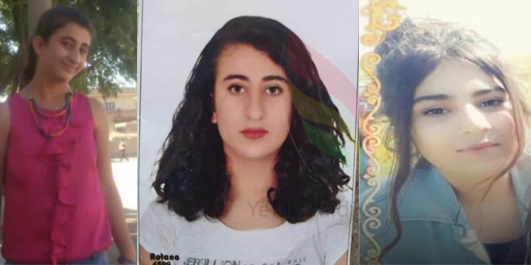 Breaking news
News
The Revolutionary Youth Organization kidnapped five minors in Qamishlo and Amuda
Yekiti Media
The Syrian Revolution Youth Organization (Ciwanin Şoreşger), affiliated with the Democratic Union Party, kidnapped five minors from the cities of Qamishlo and Amuda and took them to its training camps.
Sources from the city of Amuda told Yekiti Media that the organization had kidnapped Avin Jalal Khalil with her friend (14 years), without being able to know her name, and they took them to the organization's centers in the city, and then they were transferred to Qamishlo.
An audio recording, published by many Activists, Avin , calls an official in the organization to return home, because she is unable to stay away from her mother, threatening that she may die if she is separated from her home and her mother.
In the context, a source from Qamishlo revealed that the organization had kidnapped Ayana Idris Ibrahim (15 years), Hadiya Abdul Rahim Antar (15 years), and Abeer Castro Abdul Aziz (15 years old, from the village of Blissah affiliated to Dirk) , and they were taken to the organization's camps, adding, that their fate is still unknown , amid calls from their families and relatives to return them to their homes.
The PYD had previously announced the opening of the Child Protection Office, to return the abducted minors, and according to the families of the abductees, this office did nothing about them.
It is noteworthy that the series of kidnappings of minors and minors continues despite the repeated promises made by the SDF and its leader, Mazloum Abdi, to curb this phenomenon.