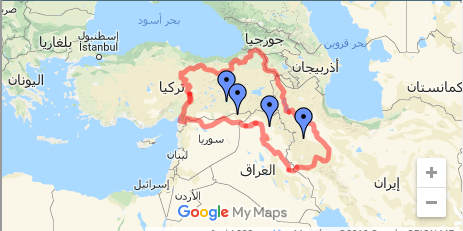 Yekiti Media
Turkish authorities have asked Google to remove a map of Greater Kurdistan that includes southeastern provinces of Turkey.
"The Information Technology and Communications Body (BTK) has met with the platform [Google]'s relevant representatives for the immediate removal of the mentioned map as part of their obligations in terms of national and international legislation," Turkish Transport and Infrastructure Minister Cahit Turan confirmed in answer to a written question from a deputy from the newly-founded nationalist IYI Party.
Greater Kurdistan refers to lands inhabited by Kurds and encompasses territories in four countries: southeastern Turkey (Northern Kurdistan), northern Iraq (Southern Kurdistan or the Kurdistan Region), northwestern Iran (Eastern Kurdistan), and northern Syria (Rojava or Western Kurdistan).
The map in question appears to be one created by a user on Google's My Maps service, not the company itself.