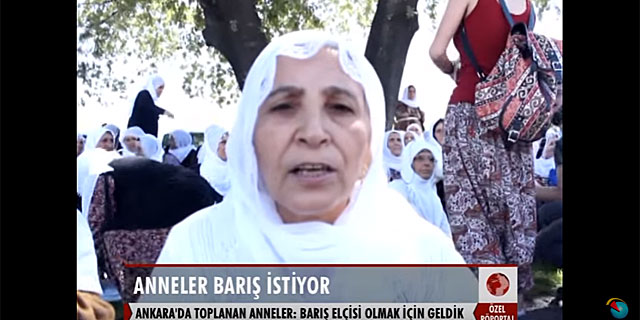 Photo is from a 1996 event organized by the Kurdish Peace Mothers Assembly (Photo: Video screenshot)
On August 7, millions of people gathered at a meeting venue in Istanbul's Yenikapi area for a joint demonstration called the "Democracy and Martyrs Rally" to protest the July 15 coup attempt.
The pro-Kurdish Peoples' Democratic Party (HDP), the country's third biggest party, was not allowed to attend. 
The Turkish newspaper Hurriyet, covered the rally, declaring, "Millions stand for democracy in Turkey."
At the rally, the leaders of the three Turkish political parties in Turkey's parliament – the ruling Justice and Development Party (AKP) and the opposition parties, the Republican People's Party (CHP), and the Nationalist Movement Party (MHP) – took the stage upon a call made by Turkish President Recep Tayyip Erdogan.
Yet, as millions of Turks allegedly "stood for democracy," Kurdish mothers were being tortured by Turkish police. In fact, many Kurds across Turkey are almost daily exposed to murders, arbitrary arrests, lynching attempts or torture.
The day of the rally, the Peace Mothers Assembly of Amed (Diyarbakir) went to visit the Peace Mothers Assembly of Siirt. The Peace Mothers Assembly is a Kurdish women's initiative which began in 1996 with the stated aim of "resolving the Kurdish issue through peaceful means."
On the way back from the visit, they were sexually torture by police officers. Nezahat Teke and Havva Kiran, members of the Peace Mothers Assembly of Amed, reported what happened to them in a press conference.
"The police stopped our car with guns in their hands," Teke said. "Then, they directed their guns at us. They made us get out of the car. Two female police officers tried to drag us to a prefabricated [structure]. Havva told them not to drag her because she was out of breath. They said, 'You don't run out of breath when you take to the streets, but you get tried now that I am dragging you?'
"As they took us to the prefabricated [structure], they made the driver go down on his knees on a pavement. They were shouting at him and telling him not to raise his head and to bow down. Female police officers forcibly undressed and frisked us. They stripped us bare-naked. But even that was not enough. They harassed us and told us to sit down and stand up repeatedly. We are their mothers' age but they did unacceptable things to us."
 "They made us wait without water for hours," Teke continued. "We, the peace mothers, have requested peace for years. We have not had any other slogan or request. Do they also consider this a crime?
"If there is a coup, we are against the coup, as well. We are against killings but we are also against such unlawfulness. We take to the streets so that no one will die [due to the war]. We are against even their deaths. But what do they do? They strip us naked and harass us. I later noticed that my 200 liras [$65] were not in my wallet. This is not an issue of money, but this shows their ugliness."
The Kurdish "Peace Mothers"
In their founding message, the Peace Mothers called out to all mothers who had lost their children in the war, saying in part:
"We are extending our hand to all mothers so that life will be sprouted from the grievances we have been going through. We are asking you to hold our hand of peace and want to achieve permanent peace as soon as possible."
Ever since, on national and international platforms, the Peace Mothers have aimed to raise awareness about their requests for the peaceful resolution of the Kurdish issue.
They have attended demonstrations on Newroz, the Kurdish celebration of the Persian New Year, and the March 8 International Women's Day. They have contacted women's rights groups and politicians outside of Turkey, as well. They were invited to the European Parliament in 2002.
Muyesser Gunes, a member of the Peace Mothers Initiative, was nominated for the Nobel Peace Prize for organizing the event "1000 Women for Peace" in 2005.
Gunes said, "All guerrillas, soldiers, and prisoners are my children. I shall be there for all of them. I will continue to struggle for peace so that they do not die."
One of the most important acts by the Peace Mothers was their "peace march" to Ankara in 1999 with their white headscarves and roses.  In that march, 40 Kurdish women from Diyarbakir headed for Ankara with the slogans "For the love of those who have been left behind" and "We are mothers; we want peace." But their entry to Ankara was prevented by Turkish police.
In 2004, 120 Kurdish women from Istanbul, Diyarbakir, Batman, Sanliurfa, Kiziltepe, Siirt, Nusaybin and Gaziantep wanted to meet Hilmi Ozkok, then chief of staff of Turkey, to express their requests for an end to the war. As always, they had their white headscarves and white roses with them. Their request for meeting with Ozkok was rejected.
But the Peace Mothers still kept struggling for their dreams.
In 2010, they submitted requests to meet with government and military officials in Ankara. Around 150 Kurdish women gathered in the Abdi Ipekci Park to stage their sit-down strike, which began on the Mother's Day.
Tayibet Tekin, 50, said she had five sons: "Two are in the mountains, two are in jail for political reasons and my only remaining male child is doing his military service. I am a mother. I am worried for each of my children. Every day, I am afraid one of them will die. The operations should end. Soldiers should not die, guerrillas should not die," Dogan news agency quoted her saying.
The group asked for appointments with the president, parliament speaker, prime minister, and the general staff. They wrote in their petition that "they wanted to hug their own children instead of coffins, adding that such a dream required peace."
None of the state authorities responded, but, according to Hurriyet, an official from the general staff called the group, saying the general staff would respond to the women within 15 days, leading them to end their demonstration.
On September 1, International Day of Peace of last year, the Peace Mothers went to the Turkish parliament in Ankara and called on the Turkish authorities and the Turkish public to take steps "to silence the guns and achieve permanent peace."
"We are here so that no mothers – be it mothers of police, soldiers or [PKK] guerillas – will no longer cry," said a Kurdish mother.  "We are calling out to the mothers of soldiers and police: We need to support one another for peace."
"In 1996," said another member of the initiative, "They took my father and burned him after killing him. They kept the burnt corpse in the police station for 15 days. I am calling out to Erdogan. My father died. Let no other father die anymore."
Click here to see a video of their event
The Peace Mothers are genuinely devoted to speaking what they call "the language of peace" and they live by their principles. Every chance they get, they call for a ceasefire between the PKK (Kurdistan Workers' Party) and the Turkish military and a return to peace talks. They are completely non-violent and their activism essentially aims to end the war in Turkey and Kurdistan.
In response, they are labeled as "terrorists," harassed, tortured and jailed.
The problem is that the Peace Mothers and their children want to remain Kurds and refuse to be slaughtered. To the Turks, however, if only those Kurds were willing to be led to slaughterhouses like sheep, or just abandon their Kurdish identity silently and stop requesting national rights, then  the Turks would probably not call them "terrorists" and would not have to kill them.
Apparently, the Turkish dehumanization of Kurds knows no boundaries. And this seems to be the main reason why thousands of people have lost their lives in the war in Kurdistan.
William Reed is a human rights activist and a student of Turkish language and history.
m.clarionproject.org