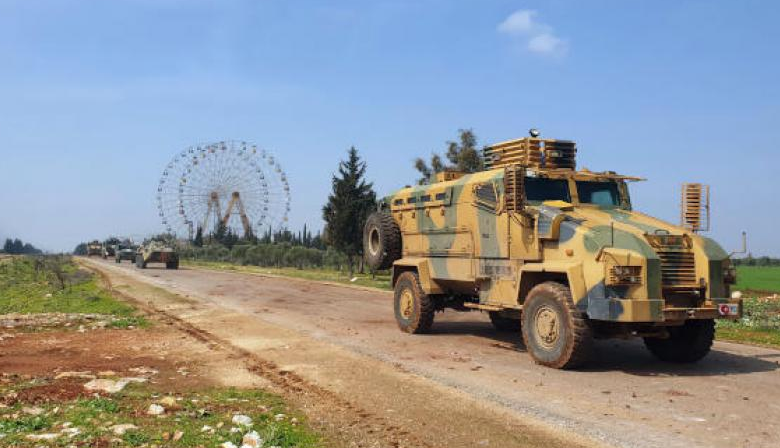 Turkish and Russian troops began joint patrols Sunday on a key highway in northwestern Syria, Turkey's Defense Ministry said, while both the Russian government and Syrian opposition activists said the patrols were shortened because of protests.
Patrols on the highway known as the M4, which runs east-west through Idlib province, are the result of a March 5 ceasefire accord between Moscow and Ankara, which back opposing sides in Syria's nine-year war.
Under the deal, which halted hostilities after an escalation of violence that displaced nearly a million people, Turkish and Russian forces are to establish a security corridor on either side of the M4, as well as carry out joint patrols along it.
The vital highway, which runs through northern Syria from the Mediterranean to the Iraqi border, has been partially closed since 2012.
Work has been underway over the past days to refurbish it for traffic. Some sections of the M4 remain under opposition control, unlike the north-south M5 highway, which Syrian regime forces completely recaptured in the latest offensive, the Associated Press reported.
The Russian military police, who used three vehicles in Sunday's patrol, were planning to conduct more joint patrols with Turkey on a regular basis, Russia's Rossiya 24 TV channel said.
For its part, the Turkish Defense Ministry said the first patrol had been completed with air and land assets. It released photos showing Russian and Turkish military vehicles traveling along a highway and officers in discussion as they looked at a map.
Syrian opposition activists said residents blocked the highway with burning tires near the village of Nairab on the southern edge of Idlib in rejection to patrols by "Russian occupation forces."
The Britain-based Syrian Observatory for Human Rights, an opposition war monitor with activists on the ground in Syria, said the joint patrols were not successful as they moved a short distance west of the government held town of Saraqeb before being stopped by the protests.