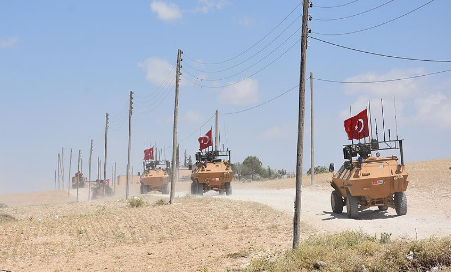 Yekiti Media
Joint Turkish-American patrols have begun in the Manbij area.
"The joint patrols of Turkish and US troops – on which we have made plans and completed training and which we said would start – began at 3:53 pm local time," Turkey's Defence Minister Hulusi Akar said at parliament on Thursday, Anadolu Agency reported.
Turkish President Recep Tayyip Erodgan and US President Donald Trump discussed Manbij and the wider situation in Syria in a phone call on Thursday, Erdogan's office stated.
The two reiterated their commitment to working together and will remain in close contact in the coming days.
The joint patrols are the latest stage in a roadmap agreed between Ankara and Washington to assuage Turkish concerns about Kurdish groups in Manbij – groups Turkey considers terrorists.
In June, the NATO allies reached an agreement that began with coordinated but independent patrols and the departure of Kurdish YPG forces from Manbij.
The joint patrols began after weeks of training.
US forces and Manbij officials have repeatedly said that Turkish forces will not enter Manbij city itself, but will be confined to designated neutral areas, even within the joint patrols.
Turkey has threatened military action against Manbij and this week shelled villages near Kobane, east of the Euphrates River and Manbij, causing the YPG and the umbrella forces of the SDF to cease operations against ISIS in Deir ez-Zor province.
rudaw