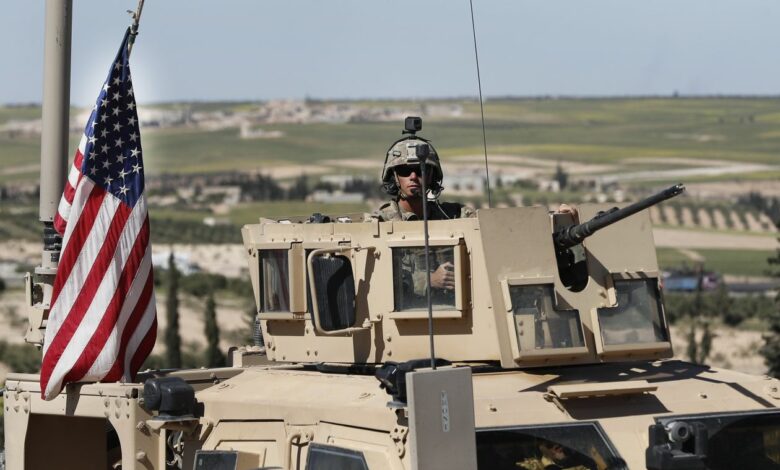 Yekiti Media
The U.S. military is preparing tow ithdraw its forces from Syria, people familiar with the matter said Wednesday,a move that marks an abrupt reversal of the American military strategy in the Middle East.
U.S. officials began in forming partners in northeastern Syria of their plans to begin an immediate pullout of American forces from the region where they have been trying to wrap up the campaign against Islamic State, the people said.
"The Pentagon has an order to move troops out of Syria as quickly as possible," a U.S.official said.
U.S. military officials have refused to say what a withdrawal timeline could look like.
The move follows a call last week between Mr. Trump and Turkish President Recep Tayyip Erdogan, who has threatened to launch an assault on America's Kurdish partners in Syria.
Mr. Erdogan steadfastly opposed the American partnership with Kurdish forces in Syria that he views as a terrorist force intent on destabilizing Turkey. But the U.S. has relied on the Kurdish forces as the most effective fighting force in Syria against Islamic State,which has been pushed to the brink of defeat.
The U.S. has long sought to reconcile the two seemingly incompatible goals that the president has sought in Syria. On the one hand, Mr. Trump has pushed to withdraw all U.S. forces from Syria,where more than 2,000 service members are working alongside Syrian militants to defeat Islamic State. On the other, he's embraced a strategy that calls for American forces to remain in Syria as a deterrent to Iran's expansive military ambitions.
Officially, the U.S. military has no authority to battle Iran in Syria. Their mission has been to defeat Islamic State and ensure the militant group that once controlled large swaths of Syria and Iraq is unable to regroup.
That task is largely complete. Islamic State has been effectively cornered in a small stretch of Syrian territory along the Iraq border, where the U.S. military estimates about 2,000 fighters have managed to hold off complete defeat for months.
The White House didn't immediately respond to a request for comment on the move. But President Trump wrote on Twitter Wednesday morning that "We have defeated ISIS in Syria, my only reason for being there during the Trump Presidency."
Earlier this year, the Pentagon said that Islamic State controlled less than 2% of the territory it once held in the Middle East, sparking a vow from Mr. Trump to get all U.S. forces out of Syria in a matter of months.
"We'll be coming out of Syria, like, very soon," he said in the spring. "I want to get out. I want to bring our troops back home."
But the pullout also comes amid abiding worries about the continued influence of Iran in Syria. Mr. Trump's national security team pushed back and persuaded the president to embrace an open-ended strategy that would make sure Islamic State couldn't rise again—and use the military as leverage to force Iran to withdraw its forces from Syria.
The U.S. sent in diplomatic teams to help rebuild northeastern Syria as the military set up new outposts on the country's border with Turkey, which views them as an effort to shield America's Kurdish partners from an attack by Turkish forces.
Earlier this month, Mr. Erdogan moved Turkish military forces to the border and threatened to attack the Kurdish forces within days.
Mr. Trump and Mr. Erdogan spoke last Friday, and the discussions about withdrawing U.S. forces moved rapidly.
In recent weeks, the U.S. military has ramp ed up its strikes against suspected ISIS targets in the middle Euphrates River Valley in anticipation of a possible Turkish incursion into Syria that likely would pull U.S. ground partners off the anti-ISIS fight, defense officials said.
Between Dec. 2-8, the U.S.-led coalition launched 251 strikes against Iraq and Syria, almost all of those in Syria, compared with 90 the previous week. Between Dec. 9 and 15, that figure jumped to 378, according to statistics provided by the coalition.
"We substantially increased the strikes because we were trying to put as much pressure on ISIS as we could," a U.S. defense official said.
Earlier this month, Marine Gen. Joseph Dunford, the Chairman of the Joint Chiefs of Staff, suggested that the U.S.mission in Syria was far from complete, saying ISIS hadn't been defeated and that only 20% of the needed local forces had been trained so far.
"With regard to stabilization, we have a long way to go," Gen. Dun ford said at a Washington Post live event.
The U.S. military has repeatedly called the Syrian Democratic Forces, an alliance of largely Kurdish and Arab resistance fighters, the most effective ground force in Syria in the war against ISIS. The SDF has been on the front lines of some of the most important battles against ISIS, including the demise of the terror group's self-proclaimed capital, the city of Raqqa.
Yet the relationship between the SDF and the U.S.-backed coalition has always been tenuous, what some even characterized as a marriage of convenience. Kurdish members of the SDF sought greater U.S. backing in its efforts to thwart Turkish threats and solidify its territorial claims in the region, yet the U.S. military never said how much it would support the SDF after the defeat of ISIS, raising fears it would abandon its partners.
The U.S. withdrawal will not only affect the fight against ISIS but U.S. attempts to keep eyes on growing Iranian influence in Syria. Among the places U.S. troops were deployed was near the cityof al-Tanf, close to where Iranian-backed forces also operated.
"We don't have a counter-Iranian mission here. We have a defeat-ISIS mission," Army Gen. Joseph Votel said in October, while visiting al-Tanf. "But I do recognize that our presence, our development of partners and relationships down here does have an indirect effect on some malign activities that Iran and their various proxies and surrogates would like to pursue down here."
The SDF is among the most immediately impacted by the U.S. decision, as they likely will be targeted by Turkey in the absence of their American backers. And, critics charge, the U.S. withdrawal will create an opening for extremist groups to operate in Syria.
"The negative impact of this decision on America's credibility is hard to overstate," said Jenny Cafarella, a Syria analyst at the Washington-based Institute for the Study of War. "The SDF now has little choice but to seek an accommodation with the Assad regime or face possible defeat by Turkey. The SDF is so vulnerable without American assistance that Assad may not even think he needs to negotiate with them. He could decide instead to attack,"
"An uneasy peace will not emerge in Syria.," Ms. Cafarella said. "The U.S. hands a victory to both al Qaeda and ISIS by abandoning the Syrian people to Assad, Iran, and Russia. These jihadist groups will continue to fight, and can now credibly say they represent the only meaningful resistance to Assad's tyranny."
WSJ