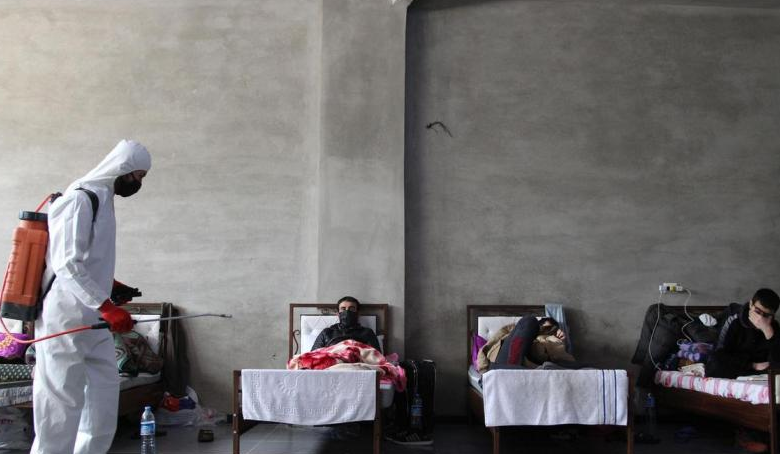 Lebanese people in contact with relatives in Damascus confirmed the "rapid" spread of the coronavirus in the Syrian capital.
Security officials and former officers are among senior officials infected by the virus. Authorities have meanwhile, issued strict orders to withhold the actual figures of the outbreak "in order to avoid sparking panic among the people, who are already suffering from an economic crisis and nine years of war."
A Syrian official was quoted as revealing that 130 deaths are being confirmed on a daily basis, according to statistics from the Damascus province. He said that is safe to assume that some died from the virus.
People who have died from the disease are being buried in the Najha cemetery in southern Damascus, he added. The cemetery was previously dedicated to burying army casualties.
A Syrian medical official said that 25 deaths from the coronavirus are being reported daily in Damascus.
The burials are being carried out by a trained government team that has taken necessary precautions, reported local media.
Alikhbaria Syria channel announced on Monday the death of its editor-in-chief Khalil Mahmoud from the coronavirus. The official media ministry did not disclose the cause of death, while his Facebook page stated that he passed away from the virus.
Lebanese artist Marwan Mahfouz died from the disease while residing in Damascus. Sheikh Mohammed Mazen al-Dimashki, the preacher at a mosque in Rokneddine, also died from the virus.
As of Monday, Syria reported 650 infections, 200 of which have recovered and 38 have died.
The health minister warned that the numbers may climb and the outbreak may spread, urging the people to adhere to preventive measures. He acknowledged that authorities do not have an accurate number of fatalities, "possibly because some people prefer to be treated at home or are late in seeking medical help."
The Syrian government announced that it was banning mass prayers on the occasion of Eid al-Adha, which falls at the end of the week. It also announced the closure of all reception halls.
In regions outside regime control, authorities reported the first coronavirus case in Sarmin city in the Idlib countryside. The person contracted the disease after coming in contact with an infected case in Damascus. Sarmin has since been put in lockdown.
Twenty-six infections have been reported in Idlib in recent days.
aawsat