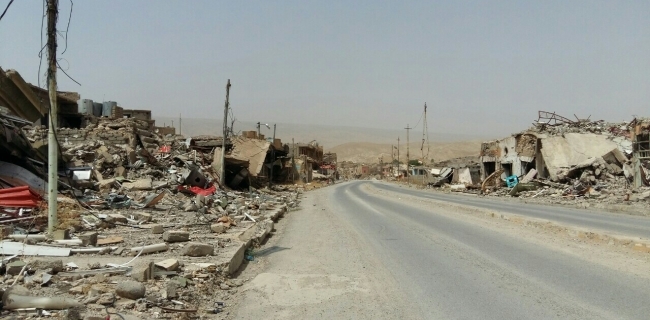 Barzani's suggestion for constructing a new Sinjar town is of immense value to the Yezidis, Sheikh Shamo says
ERBIL — Yezidis support Kurdistan Region President Masoud Barzani's suggest of building an new town of Sinjar and keep the ruined one to be a memorial and a museum as well.
Sheikh Shamo, the Yezidi MP in the Kurdistan Region Parliament, told BasNews on Thursday, August 25, that Barzani's suggestion for building a new Sinjar town is of immense value to the Yezidis, stressing out the implementation of the suggestion is necessary  since 80% of Sinjar town has been ruined.
The Yezidi official further explained that the budget which is to be allocated for reconstructing the old town should rather be spent on building a new one and the old ruined one needs to remain a symbol.
He added that the new Sinjar will be a home for all its components of diverse ethnicity and faiths to start a new life.
Barzani previously suggested that a new town of Sinjar should be constructed and the old ruined one be kept as it is in order to remain as a memorial and museum.
Mahma Khalil, the mayor of Sinjar district told BasNews earlier that a new town of Sinjar is expected to be constructed and the old one which has been ruined by the Islamic State (IS) militants will be kept as it is, noting that around 16,000 houses have been destroyed which requires a higher budget to reconstruct them than building a new town does.
"A modern town of Sinjar will be built in the west and east of the old one," he said.
Another reason for building a new town instead of reconstructing the old one is that the former Baath regime of Iraq has changed the demography of Sinjar and constructing a new town in western and eastern Sinjar will nullify such demographic changes.
Moreover, the weapons used in the old town will have negative effects on the resident of the area therefore the construction of a new district is needed to protect the citizens from the effects of such weapons, he argued.
He also explained that the Iraqi government in Baghdad has not provided the district with any financial assistance, noting that the Yezidi people have decided to support the independence of Kurdistan Region from Iraq because major crimes and unfair treatment have been committed against Yezidis in the area without Baghdad making any efforts to defend them.
Following the fall of Mosul into the hands of IS, the militant group attacked the Yezidi densely populated town of Sinjar on August 3, 2014, where they committed various types of atrocities against the Yezidi community such as mass killings and abducted thousands of Yezidis, including women, men and children.
basnews