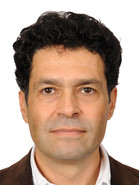 Opinions
Geneva, Assad, and the numbers game in Syria
It is not about Syrian President Bashar al-Assad staying on for six months or six years. The Geneva talks, we were told, was a forum to try and end the killing in Syria based on UN resolution 2254. The Assad regime and its close associates should depart as soon as possible, if what is left of Syria stands any chance of being stabilized and reconstructed.
For months, we have been led to believe that a deal had been brokered by Washington and Moscow. This deal, if implemented, will see the formation of a transitional Syrian authority, followed by constitutional amendments, then free and fair elections to be held within 18 months – all this hopefully with Assad leaving Syria as a precondition.
The Geneva talks will continue to scratch the surface of the Syrian problem as long as there is no consensus on Assad's departure

Mohamed Chebarro
De Mistura discreetly raises the issue when meeting US officials. When meeting leaders of countries that back the Syrian opposition, such as Saudi Arabia and Turkey, the future of Assad is high on the agenda. When meeting Syrian regime officials, De Mistura focuses on the fight against terror and ways to alleviate humanitarian suffering caused by ISIS.
Scratching the surface
Vague diplomatic language used in Geneva has plagued the talks, and Washington is unable to push Moscow for a clear commitment on Assad's departure. Moscow is biding its time to see what concessions it can win from the West regarding Ukraine, sanctions on Russia, and U.S. missile defense edging east toward former satellite states.
Even if Russia signs a deal, there are no guarantees that Iran will play ball and desert its plans to disrupt Arab countries and control as many Arab capitals as possible. Tehran is always ready to deploy its militias, and recently its army units, to achieve that goal.
Origins and outlook