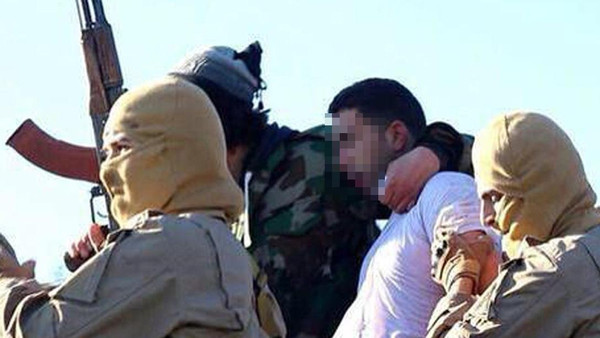 Jordan confirms pilot held by ISIS after plane crash
Jordanian military confirmed on Wednesday that one of its warplanes crashed in northern Syria and that the pilot was captured by the Islamic State of Iraq and Syria (ISIS).
"During a mission Wednesday morning conducted by several Jordanian Air Force planes against hideouts of the ISIS terrorist organization in the Raqa region, one of the planes went down and the pilot was taken hostage" by ISIS, state news agency Petra quoted a source from the military's general staff as saying.
The official did not say why the plane went down, but both the militants and a monitoring group said it had been shot with an anti-aircraft missile.
"Jordan holds the group and its supporters responsible for the safety of the pilot and his life," the statement added.
The U.S. dismissed Wednesday the claim made by ISIS that it had shot down the F-16.
"Evidence clearly indicates that ISIL did not down the aircraft as the terrorist organization is claiming," said U.S. Central Command, the body overseeing the coalition air war over Iraq and Syria.
Also on Wednesday, U.N. Secretary General Ban Ki-moon on Wednesday expressed condemned the kidnapping of the pilot.
"The secretary noted with concern the news of the downing of a Jordanian plane and of its pilot being taken prisoner," a statement from the United Nations said.
"He calls on his captors to treat the pilot in accordance with international humanitarian laws."
The ISIS branch in Syrian's Raqa published photographs on militant websites purporting to show its fighters holding the captured pilot, with a caption identifying him as Jordanian.
Several photographs were released showing the pilot, wearing only a white shirt, being carried from a body of water by four men, and also on land, surrounded by about a dozen armed men.
Another photograph was released of the pilot's alleged military identification card, showing his name as Maaz al-Kassasbeh, his birth date as May 29, 1988, and his rank of first lieutenant.
The jihadists claimed to have shot down the warplane with a heat-seeking missile.
The Britain-based Syrian Observatory, which relies on a wide network of sources inside Syria, said for Human Rights, said ISIS had used a missile taken from Syrian rebels who have been battling President Bashar al-Assad's regime.
ISIS "has a large number of anti-aircraft weapons taken from the rebels," Observatory director Rami Abdel Rahman told AFP.
Jordan is among a number of countries that have joined the U.S.-led alliance carrying out air strikes against ISIS after the jihadists seized control of large parts of Syria and Iraq.
The extremist group has committed widespread atrocities in areas under its control, including mass executions of captured soldiers and public beheadings of hostages including Western journalists and aid workers.
Coalition warplanes have carried out regular strikes around Raqa, which IS has used as the headquarters for its self-proclaimed "caliphate."
The Observatory said on Tuesday that coalition strikes had killed more than 1,000 jihadists in Syria since they started there on September 23.
In its latest update on the operation, the U.S. military said coalition aircraft had conducted seven raids in Syria and three in Iraq on Tuesday.
In Syria, six strikes hit ISIS positions near the embattled town of Kobane near the Turkish border, where Kurdish militia are fighting the jihadists, while one targeted an ISIS oil facility near Barghooth.
Syria's conflict began in 2011 as a peaceful revolt against Assad but evolved into a multi-front civil war that led to the emergence of IS and its expansion into Iraq.
Assad's regime has also carried out frequent air strikes on Raqa that have killed large numbers of civilians.
alarabiya.net